A Step-by-Step Guide to a New Beauty Career
Are you a recent graduate interested in starting a new beauty career? Alternatively, are you just looking for a career change? Entering the workforce is always an intimidating feat. You want to make sure you are going into a field that you are passionate about. You also want to make sure you will be able to make a living. Consider looking into the exciting field of medical esthetics.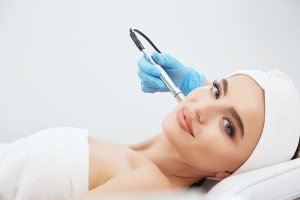 Step 1: Know the New Beauty Career You Want
Medical esthetics is considered to be somewhere between dermatology and cosmetology. While dermatologists are doctors specially trained in treating disorders of the skin, hair, nail, and mucous membranes, cosmetologists focus on treating the superficial appearance of the hair, skin, and nails.
Furthermore, there is a difference between estheticians and medical estheticians. Estheticians are similar to cosmetologists but focus on skincare only. Medical estheticians can take more of a clinical approach to treating superficial skin issues.
Medical esthetics is arguably one of the fastest-growing segments of the healthcare industry today. The field sees a projected job outlook of 11% until 2028. This is much faster than the national average, and millennials and baby boomers continue to normalize non-invasive cosmetic procedures.
Step 2: Know What Your New Beauty Career Involves
A medical esthetician's client base is wide and far-reaching. Over the years, men have also started to embrace cosmetic procedures. Across the board, Americans are embracing Botox and other cosmetic injectables. The market is expected to double by 2025.
However, you must already be a medical professional to receive the training necessary to administer cosmetic injectables. Fortunately, injectables are not the only services that medical estheticians have to offer. Cosmetic laser technician is another popular medical aesthetic career option.
You can find medical estheticians assisting or working with clinicians in a variety of healthcare settings. For instance, medical estheticians may work in hospitals and clinics. They may help advise patients on how to reduce the appearance of injuries and scarring. Others may work with plastic surgeons and dermatologists. They may administer cosmetic laser treatments, cosmetic injectables, or both.
Some of the most popular cosmetic laser treatments involve, but are not limited to:
Hair Removal

Skin Rejuvenation

Tattoo Removal

Radiofrequency Skin Rejuvenation

Photo Facials
In any case, all medical estheticians must work directly together with their clients to achieve the desired results. This makes it one of the most rewarding careers in the beauty industry. If you have a passion for working closely with patients to help make their dreams a reality, medical esthetics may be the right field for you.
Step 3: Know Why Your New Beauty Career Is in Demand
In 2019, the average hourly rate for all skincare specialists was $16.39. This translated to an average annual salary of $38,970. However, the top 10% of earners made more than $30.07 an hour. This translated to an average annual salary of $62,450. It is important to keep in mind that these numbers are variable, especially since medical esthetics is a field where there is always room for specialization and growth.
A medical esthetician who specializes in laser hair removal, for instance, may charge an average of $450 per session. By performing eight laser hair removal sessions a day under a private practice, they may net up to $3,600 by the end of the day from those sessions alone. Furthermore, many medical estheticians offer treatments that necessitate repeat visits — thus ensuring repeat customers. 
The booming nature of this industry makes for some of the most exciting and rewarding jobs in the beauty industry. Medical estheticians may work as independent contractors or open up their own private practices. They may even choose to work at a salon or medi-spa.
Step 4: Know the Requirements for Your New Beauty Career
In most states, the only requirements to become a licensed laser technician is to be at least 18 years of age, have a high school diploma (or its equivalent), and be willing to learn. Some states also require students to put in a certain number of hours of training before passing both a written and a hands-on, clinical exam. Anyone who meets the above criteria can undergo the training needed to become a licensed laser technician.
However, only those who are already medical professionals are eligible to receive the necessary training to become certified to administer cosmetic injectables (including Juvederm, Kybella, Botox, and more). At National Laser Institute, we offer a wide array of courses both in-person at our many nationwide locations and online, for your convenience.
During our Hybrid* Online Comprehensive Laser Course, you will receive online classroom laser training with a variety of instructors and live demonstrations with several hours on each modality. Modalities include Laser Hair Removal, Photofacial, Laser Skin Rejuvenation, Radiofrequency Skin Rejuvenation, Coolsculpting, Cellulite Reduction, Tattoo Removal, Radiofrequency Skin Tightening, and Microneedling.
During our CME Hybrid* Online Cosmetic Injections Course, you will receive online classroom and demonstrations on Botox, dermal fillers, off label Botox and fillers, PRP, sclerotherapy, Kybella, and PDO threads. Then choose one of our nationwide locations to attend your clinicals for hands-on learning!
Step 5: Find a Medical Esthetician School for Your New Beauty Career
National Laser Institute has been an industry leader for nearly two decades. We are dedicated to helping our students advance to the next stage of their careers. Whether you are a medical professional looking to expand your business or a recent graduate entirely new to the workforce, we are here to help.
On top of having multiple locations across the country, we also train hundreds of students per month at our Arizona and Texas campuses. We offer a wide variety of courses, and financing options are available. Are you interested in working directly with clients to help make their visions a reality? Then medical esthetics may be the right choice for you. Call us today at 480-290-7399 for more information.
We will be happy to answer any questions you may have about taking the first steps towards your new career in this booming industry. Join our successful alumni working as laser hair reduction technicians, laser tattoo reduction specialists, medspa owners, cosmetic injectors, aesthetic nurses, cosmetic physicians, and more.