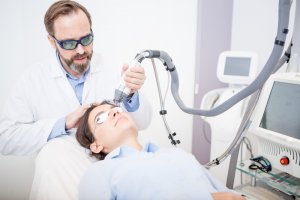 At the National Laser Institute, we offer laser training for career changers and estheticians. Also, in general, people who are looking to get into the field of medical aesthetics. Most importantly, everyone who comes to our school usually comes for completely different reasons. Besides the main reason, at the core, each of them is looking to change their lives, and taking this course gives them that opportunity. Don't keep delaying your dreams. Act now and get started! Besides, why wait? Because in the end, the time will pass anyway and you don't want another year to pass by without going after your dreams!
Why come to the National Laser Institute?
First of all, why come to the National Laser Institute to get laser training? We offer a few different ways to receive laser training. You can get trained completely online or you can take our course. Our instructors have years of experience in this industry and because of that, they are at the top in this industry. They truly know the treatments and the field inside and out. You will become among the twenty-thousand plus students who have gone through our program. Our graduates go on to work at medical spas, physician offices, and even tattoo shops. Some even go on to open their own businesses. No matter what your goals are after graduation we can get you there. You will leave our program feeling confident in your abilities. This is the most important goal. Therefore, here are a few things that make the National Laser Institute unique:
Classes lead by dermatologists, cosmetic surgeons, and leading industry physicians and medical aesthetics experts

Train on multiple, industry-leading technologies

Luxury, retail medical spa training center

Staffed with a specific team of 20 customer service/marketing agents

Medical advisory board with over 100 years of combined experience

Business development/marketing seminar

Featured in the top national health and beauty publications

Industry pioneer for education in Laser, Botox, and Filler training
What Laser Treatments will you learn?
Throughout the program, our instructors will guide you in learning the latest cosmetic laser treatments. In our program, you will get a chance to work on real, paying clients. In our online program, you will watch instructors to learn how to administer these treatments. Either way, you will leave the program feeling ready to go out to treat clients one on one. Therefore, you will learn these treatments during the program:
Laser hair removal

Intense Pulsed Light (IPL) photofacial

Laser spider vein reduction

Laser acne treatments

CoolSculpting body contouring

Laser wrinkle reduction

Radiofrequency (RF) skin tightening

Laser skin tightening

Cellulite reduction

Laser tattoo removal
Lastly, not sure this is the right program for you?
Lastly, are you still having some doubts? Give us a call and we can walk you through the program and what to expect. It is most important that you know how other students' experiences were. Here are some testimonials from past students:
"What an awesome, amazing school! Kim Phelps was my rep and she was such a wonderful person to set up everything for school! She always checked up on me and walked me through the process. Being here at NLI has let me meet some amazing and wonderful instructors! Everyone was behind me 100%. And their energy was great! I won't ever forget NLI." 
SAMANTHA RUZOL
"Going through this two-week laser course has been the best experience I've had in a very long time! As challenging and scary as it was in the beginning, it all came together as the courses and clinicals progressed. I feel excited and confident that I can go for work and thrive in my exciting new career!"
During our Online Comprehensive Laser Course you will receive online classroom laser training with a variety of instructors and live demonstrations with several hours on each modality. Then choose one of our nationwide locations to attend your clinicals for hands-on learning!
Modalities include Laser Hair Removal, Photofacial, Laser Skin Rejuvenation, Radiofrequency Skin Rejuvenation, Coolsculpting, Cellulite Reduction, Tattoo Removal, Radiofrequency Skin Tightening, and Microneedling.
If you're ready to get started in the medical aesthetic industry then give us a call at 855-637-4530 to talk with one of our admission representatives. They'll answer all your questions and guide you through the whole process.