Understanding Cosmetic Lasers and Laser Training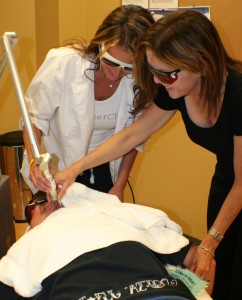 A typical laser is understood as something that emits a beam of light. However, in the cosmetic laser industry, cosmetic lasers are used to emit laser light energy onto specially targeted areas on the skin, giving clients desired results. Some of the most popular cosmetic laser treatments are laser hair removal, laser tattoo removal, laser wrinkle reduction, and laser acne reduction–all of which can be performed with cosmetic lasers.
Cosmetic lasers have been around for a while and in that time have grown and advanced to perform treatments faster, safer, and more effectively. More and more people are choosing cosmetic laser treatments over plastic surgery because it is a cheaper option that provides both dramatic and desirable results.
Those who receive proper laser training can perform many of these popular cosmetic laser treatments on their own clients. However, it is important for students to go a reputable and hands-on laser training school in order to receive quality laser training. Many lawsuits result from people who are not trained or properly trained to perform lasers, but inappropriately perform treatment on clients anyway. This can result in burns, blisters, or scarring. That's why it's very important to invest in the best laser education possible.
At National Laser Institute, you can receive hands-on laser training with scheduled clients in a luxury medical spa facility. Students will also have the opportunity to learn in a small classroom setting. National Laser Institute ensures student success by giving them a ton of clinical time, making sure they feel comfortable and confident performing treatments on others. This will prepare them to treat their own clients.
National Laser Institute prides itself on offering quality laser training. They have been in the health and beauty industry for over a decade and are the leader in the medical aesthetics industry. They have earned an A+ rating at the BBB as well as a number of starred reviews.
To learn more about laser training or National Laser Institute, please call 480-290-7399.
Read more information on: