Can Your Sweet Tooth Cause Wrinkles?
Sugar Correlated to Wrinkles
We all want to keep our firm, youthful skin. We've heard all the basics: Wear sunscreen, keep your skin moisturized, eat healthy. But can TOO much sugar be the cause of wrinkles or premature wrinkles?
Let's look at the science of it all. Eating sugar creates an initial process called glycation, which is a chemical reaction within the body that bind with certain tissues that form harmful molecules, or AGEs. These AGEs lead to the damage of collagen–which keeps your skin healthy and firm–and elastin, which acts as an anti-wrinkle agent within your skin. If collagen and elastin become damaged, wrinkles may form.
It's not just candy sugar treats that cause this reaction in your body, either. Soda, white bread, and white pastas can also trigger this process. This also means your skin is more susceptible to sun damage.
Does this mean you should give up sugar for good? No. There are actually some sugary treats that have antioxidant aging benefits, like dark chocolate. Instead, try moderating your intake of white starches and candy or maybe substituting your spaghetti dinners with a whole wheat pasta and trading those sodas for sweet but healthy smoothies.
Laser Training and Wrinkles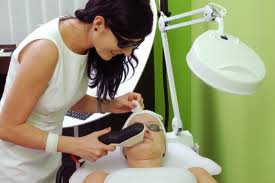 Many laser technicians have seen the unfortunate benefits of AGEs and how they react with the skin, but that's to up-and-coming technology, laser treatments are able to help many clients who want to rid wrinkles. Doctors, nurses, career changers, and various other healthy and beauty professionals have been receiving laser training in order to help treat clients with wrinkles, which is one of the biggest skin concerns people have.
Laser training takes two weeks for Arizona residents. At National Laser Institute, we provide hands-on training with a number of our state-of-the-art laser wrinkle reduction equipment. Laser safety is also included in the course. Students learn from experts in the field and once they graduate, they are trained to perform laser treatments under the supervision of a medical director.
Botox Injection Training
Botox is typically a quicker way of ridding those annoying fine lines and wrinkles, and the #1 nonsurgical treatment of choice by millions. 6 million just last year, to be exact. We also offer Botox injection training for medical professionals interested in adding this service to their business. Specific Botox injection training only takes a day, but you can add on dermal fillers, sclerotherapy, laser, BHRT and more for a longer training period. Botox injection training is also hands-on and medical professionals will gain experience by practicing on scheduled clients.
Wrinkles are inevitable for everyone, but this day and age it's easy to do something about it. To learn more about Botox injection training, laser training, or National Laser Institute, please call 800.982.6817.