Medical Aesthetician School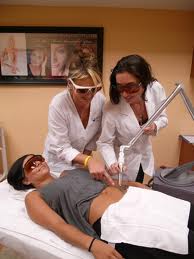 According to a recent report, roughly 6 in 10 physicians are concerned about where the future of medicine is going. Interestingly enough, over 55% of emergency medical specialists feel burnt out within their field while 67% of nonsurgical specialists are happy where they are now.
Nonsurgical specialists, or medical aestheticians, are those who perform a wide variety of nonsurgical cosmetic treatments, such as Botox, laser hair removal, dermal fillers, and more. They are committed to helping clients gain confidence in themselves and their skin by improving a variety of major skin care concerns, such as acne, wrinkles, pigment problems, and more.
Each month, we train multiple medical professionals within the field of medical aesthetics. Many nurses and doctors who come to our medical aesthetician school are burnt out on their current medical job or are looking for something new to add to their practice just to offer something successful and different. And because medical aesthetician training takes between 1 day and two weeks, many medical professionals find this easy to squeeze into their schedules.
License Requirements
Those seeking to gain certification injecting cosmetic treatments like Botox and dermal fillers must be a licensed medical professional and have earned some kind of degree in medical practices. Medical aestheticians must also take a two week laser training course in order to become certified in laser hair removal, laser tattoo removal, and more.
Salary
The U.S. Bureau of Labor Statistics (BLS) states that aestheticians skin care specialists earn a salary anywhere between $12,260-$99,329. This varies because skin care specialists is such a vague category that can include many different things. However, we have typically seen medical aestheticians earn an hourly pay rate, commission, or salary plus commission. It all depends on where you decide to work.
Careers
Medical professionals who become trained as medical aestheticians have enjoyed careers working in medical spas, adding on services to their current practice, joining family doctors, healthcare facilities, OBGYN offices, dermatology clinics, and much more. Many have even gone on to open and run their own business, offering a variety of nonsurgical cosmetic treatments to local clients.
Medical Aesthetics Training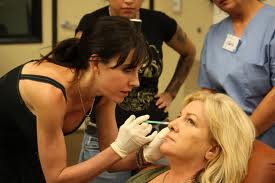 At National Laser Institute, we offer medical professionals many different course options that include CE/CME credit upon completion of the course. Some of our medical aesthetician training courses include Botox training, dermal filler training, laser training, BHRT training, sclerotherapy training, and much more. Courses range from 1-14 days and many courses are comprehensive so you can learn a variety of different modalities to add to your skillsets.
National Laser Institute is the leading medical aesthetician school in the nation and pioneered the very first laser training curriculum that other laser schools use across the U.S. We are recognized as gold standard education and have earned many outstanding reviews. To learn more about medical aesthetician school, please call 800.982.6817.
Why do medical professionals choose medical aesthetics? Watch our medical professional attendees explain their decision and why they love NLI:
Read for more information on: