We Offer Students the Best Medical Aesthetics Training in the Country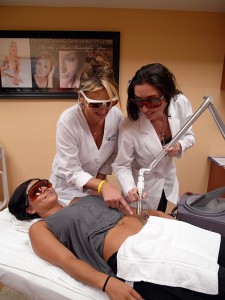 Recognized as the leader in the medical aesthetics industry, we are dedicated to providing the best treatments and education for our students. Students have a choice of receiving BOTOX® training, dermal filler training, laser training, and more from the course options we offer. Plus, students have the opportunity to learn the most advanced treatments in the industry right now!
Popular Treatments
Some of the most popular cosmetic laser treatments include laser hair reduction, laser wrinkle reduction, laser cellulite reduction, laser acne reduction, and many more. Our goal is to train students in a comprehensive laser training environment and exposing them to our most advanced lasers and treatments.
According to The American Society of Plastic Surgeons (ASPS), 1.1 million people received laser hair reduction treatments last year, increasing 15% from 2010. In total, non-surgical cosmetic treatments increased by 6%, totaling 12.2 million treatments performed in 2011. This proves that the cosmetic laser industry is still on the rise, which is why we only train our students with the best of the best, state-of-the-art laser equipment.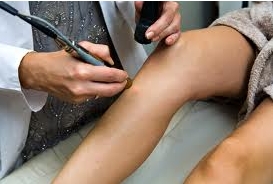 Medical professionals are also welcome to take our BOTOX® training and dermal filler training courses. Students will learn all about the latest and most advanced injection techniques as well as receive hands-on training with scheduled clients. These non-surgical "face lifts" are designed to give clients a more youthful look by smoothing out wrinkles and filling out hollowed areas.
BOTOX® was the #1 non-surgical procedure performed last year with dermal fillers coming in right at #2. 5.7 million people received BOTOX® treatments last year, increasing by 5% from 2010. In comparison, dermal fillers brought in 1.9 million treatments last year, increasing by 7% from 2010. With so many people demanding treatments, it's no wonder why both BOTOX® training and dermal filler training are popular options.
Our Courses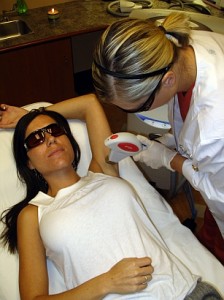 Both medical professionals and people wanting to make a career change into the laser industry can come and receive medical aesthetics training with us.
With our cosmetic injectables courses, you'll learn how to treat the most commonly requested areas, such as forehead wrinkles, frown lines, crows feet, lip fillers, mouth lines, and hollowed cheeks. You'll also discover the different kinds of injectables, from Dysport®, Juvederm®, Restylane®, and more.
With our comprehensive laser course, you'll learn about all the popular cosmetic laser treatments and how they work, including how to fire the laser, set the machine, and all of the pre and post consultation questions.
In all our medical aesthetics courses, you will learn:
• Both through classroom lecture and hands-on with clients
• How both laser and injectable treatments work and how they affect the treated area
• Benefits and risks of medical aesthetic treatments
• Pre and post care treatments
• Business marketing tips and advice
Your Success
Our courses are designed to promote student's success so they feel comfortable and confident in their training once they leave. Students even have had great things to say about us in their reviews over our courses!
If you're looking for BOTOX® training, dermal filler training, or laser training, our campus is for you. To learn more about our medical aesthetics training or National Laser Institute, please call 800.982.6817.
Read more information on: