Medical Aesthetic School Review: National Laser Institute
From its pristine interior and welcoming education environment with state-of-the-art equipment, National Laser Institute is not only a leading medical esthetic school, but has also been listed as one of the best places to work, have been featured on top news channels like ABC, NBC, and CW33, and pioneered teaching the clinical/hands-on portion of coursework now found in many medical esthetic schools across the nation.
There is a reason thousands of students choose to receive medical esthetic training at National Laser Institute every year. Expert instructors provide a wealth of information and have over a decade of combined medical esthetic experience in this industry. Students only learn on the latest, most advanced technology and learn the best and safest techniques. Best of all, clinical hands-on training is offered in most courses, providing students with scheduled clients to treat within a luxury medical spa setting so that you learn both in the classroom and in a real-world environment.
Medical esthetician courses offered at National Laser Institute are less than a month long, which means you're able to learn your certification in two weeks or less. Not an esthetician? Don't worry about it. Although we do have estheticians and medical professionals who attend our courses, most states only require that you have your high school diploma or GED before attending a medical esthetic school. In fact, a vast majority of students to come take our courses are career changers and are very supportive of one another throughout our classes!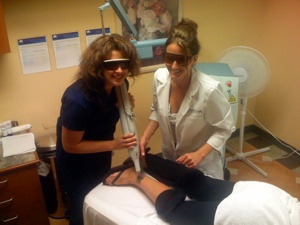 Currently, National Laser Institute has locations in Scottsdale and Dallas but do offer destination courses throughout the year that include cities like Boston, Chicago, San Francisco, and more. Students across the globe come to attend our prestigious training courses, and they're always excited and inspired by graduation. To see, check out this recent graduation video!
Not only has National Laser Institute been around for over a decade, it's been serving up educational excellence for just as long. We're recognized as gold standard education and the Harvard of cosmetic laser schools across the country. We have also received many outstanding reviews, and you can view some of our student video testimonials below!
To learn more about medical esthetic school, simply fill out the form to your right or call us at 480-290-7399.