Top 5 Trends in Medical Aesthetics for 2017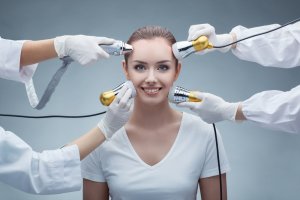 We at National Laser Institute are thankful for all that last year brought us, including our many wonderful graduates, thousands of loyal clients and countless friends.
Now, it's time to look to forward as an opportunity to grow both wiser and younger—that's right, younger. We're in the medical aesthetics business, after all! Here's a peak into our crystal ball for the top 5 trends in medical aesthetics for 2017:
#1 – Ditch the Scale
In 2017, rather than declaring a New Year's Resolution to lose weight, many more people will be booking treatments for new and improved nonsurgical fat reduction treatments including CoolSculpting, radio-frequency and laser-assisted technology, ultrasound technology and Kybella injections. While there's no substitute for eating right and exercise, these technologies offer excellent results for stubborn fatty areas such as love handles, muffin tops, bat wings and double chins—and can even tone and tighten skin, too.
#2 – New Uses for Kybella
And speaking of Kybella, this "miracle" injectable—which was approved by the FDA in April 2015 as a non-surgical injectable for reducing moderate to severe fat on the upper neck, otherwise known as a "double chin"—is likely to soon be approved for other areas as well.
Injections contain a naturally occurring molecule, which eats away at fat cells, leaving skin substantially tighter and the jaw more defined and contoured. More than 20 studies with thousands of patients have shown that almost 70 percent noted both physical and emotional improvement after treatment, and many beauty experts are calling Kybella "the next Botox"!
#3 – The Selfie to End All Selfies
Without a doubt, we're going to see more apps and computer-based technology that will allow consumers to see how their faces will look before and after specific treatments. Medical spas and other medical aesthetics businesses can discuss results with clients in real time. This technology can be highly beneficial in educating the client on options, treatments and cost, as well as narrowing any potential expectation gaps.
#4 –PRP Gaining Popularity
Platelet-rich-plasma (PRP) gained significant notoriety when a certain-certain celeb posted pics of herself getting a facial that included dripping blood (actually, PRP) onto her face. Though it may still sound strange, it works and it's very natural. PRP has actually been around for many years, originally used in sports medicine and also dental work.
PRP is obtained by drawing a small amount of the client's blood, then spinning it in a centrifuge to separate out platelets and plasma. PRP grows collagen and can be used to soften the appearance of sun damage, wrinkles and sagging. PRP can be used topically—with or without treatments such as microneedling, which allows further penetration of PPR—and can also be injected into the face for rejuvenation purposes.
#5 – More Men, More Millennials
As more and more people are getting comfortable not only with getting medical aesthetics services such as Botox, dermal fillers and laser or IPL skin rejuvenation, but also with talking about these services with their friends and on social media, the market share for both men and millennials continues to climb. While men in their forties, fifties and beyond tend to focus on looking younger in the workplace, younger men and millennials of both genders focus on appearance enhancement and age-prevention.
For more information on cosmetic laser training or any of our medical aesthetics courses, click here or call us at 800-982-6817.