Microneedling Blended Online Courses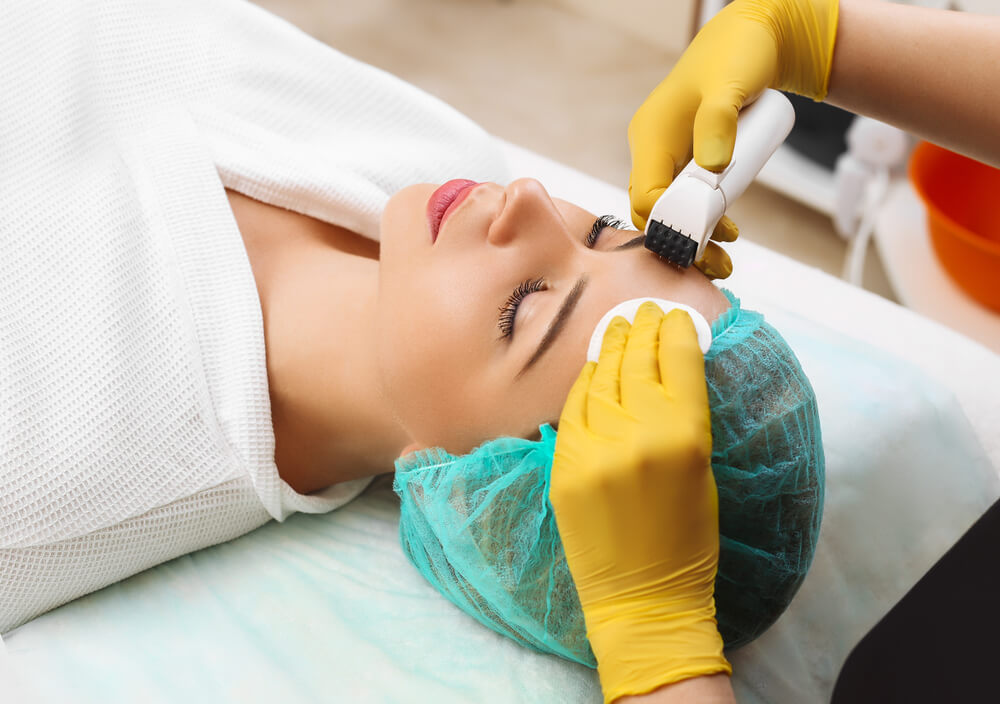 If you are an aesthetician looking to skill up or a medical professional looking to maximize your income potential, microneedling blended online courses may be right for you. You may even be looking for a career change or trying to (re-)enter the workforce. Whatever the case may be, microneedling blended online courses may open up exciting new opportunities for you.
What Is Microneedling?
Microneedling, also known as collagen induction therapy, is a minimally invasive cosmetic treatment that helps fade acne scars and stretch marks. During this process, a qualified professional uses a dermaroller to prick the skin with small needles to stimulate collagen production. As a result, skin tissue becomes firmer and appears more even.
Though microneedling most commonly targets the face, it can address scars, wrinkles, and enlarged pores virtually anywhere on the body. The process is minimally invasive, and most people are good candidates, provided they are in overall good health. Some redness and irritation may follow, and it is not uncommon to need four or more procedures to see optimal results.
How Does Microneedling Work?
As we get older, the amount and quality of collagen our bodies produce become lower and lower. Skin suffers as a result of this, becoming saggy and dull. Other lifestyle choices can compound the aging effects of deteriorating collagen production. This is exactly what microneedling targets.
Intimidated by the needles of a dermaroller? They're exactly what makes microneedling so effective. A dermaroller creates only microscopic, surface-level punctures in the skin. This isn't enough to damage the skin. However, it is enough to stimulate it to produce new, collagen-rich tissue. The result is firmer, smoother, and more even skin.
Who Can Take Microneedling Blended Online Courses?
Only a professional should perform microneedling. However, the rules and regulations on who qualifies vary on a state-by-state basis. In most of the nation, however, there are only two basic requirements.
You must be eighteen years or older, and you must have a high school diploma (or GED). If you're unsure about whether or not you can practice in your state, give one of our advisors a call today. They would be happy to answer each and every one of your questions.
During our Hybrid* Online Comprehensive Laser Course, you will receive online classroom laser training with a variety of instructors and live demonstrations with several hours on each modality. Modalities include Laser Hair Removal, Photofacial, Laser Skin Rejuvenation, Radiofrequency Skin Rejuvenation, Coolsculpting, Cellulite Reduction, Tattoo Removal, Radiofrequency Skin Tightening, and Microneedling. Then choose one of our nationwide locations to attend your clinicals for hands-on learning!
Best Microneedling Blended Online Courses for You
The National Laser Institute has been an industry leader for nearly two decades. We dedicate ourselves to helping our students advance to the next stage of their careers. No matter who you are, we are here to help connect you to the best microneedling blended online courses for you.
Additionally, on top of having multiple locations across the country, we train hundreds of students per month at our Arizona and Texas campuses. We offer a wide variety of courses. Financing options are also available for students in need. If you are interested in working directly with clients to make their visions a reality, medical aesthetics may be the right choice for you. 
Of course, we understand you may be nervous about taking the first steps towards your new career in this booming industry. We would be happy to answer any questions you may have. Call us at 480-290-7399 for more information. We have thousands of happy alumni. Take the first step to join them today.