Why Take Medical Aesthetics Classes?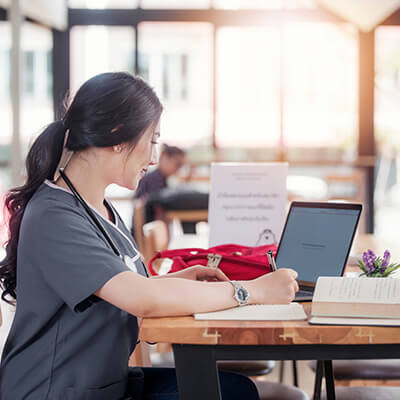 All across the nation, "medical aesthetics" has become an exciting new buzzword for many looking for new careers. But what is medical aesthetics, and are medical aesthetics classes worth the hype? Read on to find out more.
Reason #1 to Take Medical Aesthetics Classes: The Industry Is Booming
Medical aestheticians can be considered skincare specialists somewhere between cosmetologists and dermatologists in skill level. They can help clients take on a more clinical approach to taking care of the superficial appearance of the skin.
Baby boomers and millennials alike continue to embrace non-invasive cosmetic procedures as time goes by. As a result, the medical aesthetics industry shows no signs of stopping growth any time soon. On the contrary, it is on track to grow to $22.2 billion by 2025.
Reason #2 to Take Medical Aesthetics Classes: Jobs After Medical Aesthetics Classes Are in Demand
According to the Bureau of Labor Statistics, the job outlook for medical aestheticians is 11% through 2028. In comparison, all other jobs nationwide see an average of 5%. Not only is job demand high, but so are employment rates — a giant bonus for anyone looking into medical aesthetics training!
Reason #3 to Take Medical Aesthetics Classes: Breaking Through Is Easier Than You Think
There is a common misconception that only medical professionals can become medical aestheticians. However, in most states, the only prerequisites are that you be at least 18 years old and have your high school diploma (or its equivalent).
There are many different medical aesthetics courses you can take. Laser training and certification is one of the most popular. The only caveat, however, is that only medical professionals can undergo the necessary training to inject Botox and other fillers.
Reason #4 to Take Medical Aesthetics Classes: You Get to Take Control Over Your Own Time
It is not unusual for students to start off wanting to get their aesthetics certification in every cosmetic procedure and end up choosing to specialize in one or two procedures instead. Doing this can be very profitable, especially if you choose a specialization that guarantees repeat clients.
Many successful medical aestheticians build up an established client base doing this. Once you have enough experience in the medical aesthetics industry, you may choose to work as an independent contractor — allowing you to set your own rates and working hours.
Reason #5 to Take Medical Aesthetics Classes: You Get to Work Directly With Clients After Completing
For many medical aestheticians, working directly with clients is the most rewarding part of the job. The nature of the job means you must develop close bonds with your clients. After all, they are surrendering their visions to you! The best medical aestheticians find it personally rewarding to help make these visions a reality.
Medical Aesthetics Classes Near Me
The National Laser Institute has been an industry leader for nearly two decades. We are dedicated to helping our students advance to the next stage of their careers. Whether you are a medical professional looking to expand your business or a recent graduate entirely new to the workforce, we can help you.
During our Online Comprehensive Laser Course, you will receive online classroom laser training with a variety of instructors and live demonstrations with several hours on each modality. Modalities include Laser Hair Removal, Photofacial, Laser Skin Rejuvenation, Radiofrequency Skin Rejuvenation, Coolsculpting, Cellulite Reduction, Tattoo Removal, Radiofrequency Skin Tightening, and Microneedling.
During our CE/CME Online Cosmetic Injections Course, you will receive online classroom and demonstrations on Botox, dermal fillers, off label Botox and fillers, PRP, sclerotherapy, Kybella, and PDO threads. Then choose one of our nationwide locations to attend your clinicals for hands-on learning!
On top of having multiple locations across the country, we also train hundreds of students per month at our Arizona campus. We offer a wide variety of courses, and financing options are available. Are you interested in working directly with clients to help make their visions a reality? Then medical esthetics may be the right choice for you. Call us today at 800-982-6817 for more information.
We will be happy to answer any questions you may have. We are prepared to help you take the first steps towards your new career in this booming industry. Join our successful alumni working as laser hair reduction technicians, laser tattoo reduction specialists, medspa owners, cosmetic injectors, aesthetic nurses, cosmetic physicians, and more.