What Are Medical Directors in Medical Spas?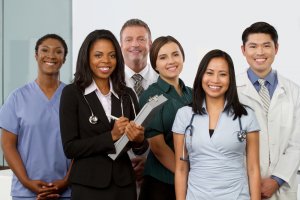 What are medical directors in medical spas? Also, what function do they serve? How much do they make annually? And finally, is there a profitable job market for such roles?
For the most part, we know what aesthetic nurses do in a medical spa. We also know the roles and functions of other medical practitioners in such a setting. We have a pretty good grasp on what the front desk staff does too. But do we truly understand the role of a medical director in a medical spa?
Perhaps not.
Truth be told, we are doing ourselves a disservice by failing to understand what the most integral position of a medical spa might be. 
Until we truly understand the answer to, "What are medical directors in medical spas?" we can't grasp how a medical spa functions. 
By all means, please allow us to divulge the answer to, "What are medical directors in medical spas?"
First and foremost, the role of a medical director in a medical spa is vital to the function and safety of the medical spa. In fact, a medical spa can't operate without an appointed medical director. For this reason, this safeguard is essential for the wellbeing of the spa's business and patient welfare.
Equipped with education, years of medical practice, liability, and genuine concern and interest for the overall health and security of the business's client base, spa medical directors serve in a weighty, but rewarding role.
An emphasis on the facts: 
Medical directors are licensed, board certified physicians charged with overseeing the general business and safety of the medical spas that they either own or work for. The responsibility demands that they adhere to certain safety guidelines. Similarly, the medical director is charged with ensuring that the spa's staff does the same.
Though the procedures are being done in a spa setting, medical directors remain aware that each client is also a patient of sorts. With that in mind, they must hold themselves and the spa employees to an elevated standard of care that protects the best interest and welfare of the spa clientele. Therefore, the appointed medical director must demand excellence and accountability of the spa's employees. As a licensed physician, the medical director of a spa has a different viewpoint and, often, a higher level of education than other spa staffers. 
Though much of the medical aesthetic procedures performed at medical spas are noninvasive and considered low risk, medical directors must maintain responsibility. Furthermore they must remember that spas offering medical treatments, such as injectables, are held to the same standards as regular medical clinics and physician offices. 
That's some pretty heavy stuff but it still doesn't exactly explain what a medical director of a medical spa does. Let's get to the point!
Once again, what are medical directors in medical spas?
THE ROLE OF A MEDICAL DIRECTOR IN A MEDICAL SPA:
Assumes all responsibility for procedures (such as Botox, fillers, other injectables, laser hair removal, tattoo removal among others) performed within the spa.

Is present in the medical spa to help clients and the community view the facility as experienced, safe and trustworthy.

Complies with and ensures that spa staff complies with all federal laws in addition to the laws of the state where the spa operates.

Oversees and guarantees the medical quality of a facility.

Executes

the policies, systems, and agenda of the facility

.

Supervises the spa's other medical and ancillary staff.
As a result of the listed job description, it's a lot of responsibility…
Are there benefits to being a director of a medical spa?
There are wonderful, worthwhile benefits to being director of a medical spa thereby making the job worthy of a physician's time and effort. For this reason, many physicians are finding themselves researching the details of the business of serving as director of medical spas. 
Can you hear the boom? It's the sound of the medical spa industry rising exponentially.
Unquestionably, the business of medical aesthetics is thunderous. There is no end in sight for the growth of medical aesthetics either. In fact, according to recent business reports, the global medical spa market is expected to continue to grow rapidly at an astounding rate of 12.2% between 2018 and 2025. Moreover, it is projected to reach a total of nearly 28 billion. By 2026, the world spa market will likely reach an astronomical $34 billion. Leading industry experts point to the "increasing number of alternative aesthetic treatments" as the money-making catalyst.
What are medical directors in medical spas in the United States saying?
In short, the physicians working as medical directors in the U.S. are saying that business is good. Really good.
Better yet for United States based physicians considering becoming medical spa directors, in recent years North America dominated the medical spa market as far as advances in technology and increasing number of entrants into the innovative medical spa sector.
All data points to the notion that minimally invasive spa procedures are a hot ticket item and a good bet for the foreseeable future. 
What's the hold up? Now more than ever is a great time to dive into the United States nearly $17-billion-dollar industry to get a slice of the financial pie.
A breakdown of the benefits:
According to Payscale, the average median salary for Medical Spa Directors is $66,000 annually. Medical spa directors making the most money can expect as much as $110,000 per year. As with any career, the number of years of experience and education factor into salary.
Another benefit to being a medical spa director is the hours. Medical spas certainly don't operate on the same time clock as a hospital. There are no overnight shifts or holidays. Medical directors of medical spas can generally expect to work reasonable hours and minimal weekends. 
Additionally, pioneering physicians ready to take the plunge can open their own medical spas and serve as medical director. In such a case, the physician owner would have even more interest, financial and otherwise, in the budding business.
Then there's the good old-fashioned benefit of helping others. Directors of medical spas are essential to keeping the spa doors open to clientele. Medical aesthetic services such as Botox, fillers and laser hair removal work to enhance a client's physical appearance and the way that they feel about themselves. When a medical director leaves a day of work at a medical spa, they can do so with the satisfaction of knowing that they are part of a well-oiled team that helps promote self-confidence and happiness.
Many physicians become doctors to help people. As directors of medical spas, they can see the direct result of their longtime schooling and hard work.
How do I become a medical director of a medical spa?
Ah, at long last you ask the question that we've been waiting for. At National Laser Institute we have the answers, the education and the training that you need to become the next director.
At NLI, you will learn from the best in the field of medical aesthetics. Courses are taught by industry leaders in the disciplines of plastic surgery, dermatology, and many more. 
Bear in mind, all medical directors must have a medical degree, board certification, and experience in the medical field. Often, medical management experience is also required.
Get in touch!
If you're ready to take the leap into this next exciting step of your career, we will gladly cheer you on. At National Laser Institute, we offer a three-day, comprehensive course that will prepare you to serve as a Medical Spa Director. By the time you receive certification, you will know the ins and outs of the medical aesthetics industry. You will also be a well-informed, confident Medical Spa Director. 
If you meet the above criteria and are ready to learn more, contact us using the form on this page or call 800-982-6817.  
NOTE: 
At National Laser Institute, our connection with you doesn't end when your course is over. We offer job placement assistance and will be happy to help you find the perfect fit for yourself and your new certification as Medical Spa Director. We want to help because your success is truly our success!
During our CE/CME Online Cosmetic Injections Course you will receive online classroom and demonstrations on:
– Botox
– Dermal fillers
– Off label Botox and fillers
– PRP
– Sclerotherapy
– Kybella
– PDO threads
Then choose one of our nationwide locations to attend your clinicals for hands-on learning!