Botox & Cosmetic Injectable Myths Debunked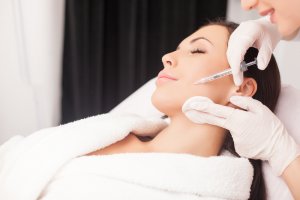 Botox has quickly become the No. 1 non-surgical treatment with more than 7 million procedures performed last year.
Despite the popularity of Botox, there are still misconceptions about this beauty treatment in the medical aesthetics industry.
If you a nurse, physician or medical professional looking to earn your Botox certification, discover the truth behind six of the most common Botox and cosmetic injectables myths!
Common Botox Myths
Botox Myth #1. — Botox and dermal fillers are the same.
Botox and dermal fillers are different. Botox is a neurotoxin that paralyzes the facial muscles to reduce skin creasing and wrinkling that occur naturally. Dermal fillers plump areas with significant volume loss. Facial fillers treat smile lines, lips or cheeks. Cosmetic injectors typically use a combination of Botox and fillers to achieve the best results!
Botox Myth #2. — Botox is permanent.
Although the effects of Botox injections last for a reasonable amount of time, they are not permanent. Clients should schedule regular treatments if they want to make sure their dynamic wrinkles don't reappear. Botulinum toxin generally lasts between three to six months; however, this depends on factors such as facial anatomy, dosage and the area being treated.
Botox Myth #3. — Facial wrinkles will become worse if you stop using Botox.
If a client stops Botox injections, the wrinkles will go back the way they were before the cosmetic treatment. The muscles will slowly lose the relaxing effect of the Botox, and they will resume the normal development of wrinkles with facial expressions and movement.
Botox Myth #4. — The best time for Botox injections is when fine lines appear.
Recently, many nurses and physicians have seen a significant increase in the number of millennials requesting Botox injections as a preventative treatment. Between 2011 and 2016, Botox use among millennials aged 19 to 34 increased by 87 percent! Many medical professionals believe millennials are seeking Botox to achieve the perfect selfie. Some believe that if a client waits until fine lines and wrinkles appear, it will be more difficult to smooth out their appearance.
Botox Myth #5. — Botox is just for wrinkles
Botox is not just cosmetic! Botox injections have been used to treat a variety of medical conditions. It is currently used to treat over 20 different medical conditions, with more applications under investigation. Many patients receive injections to treat migraines, because it helps reduce muscle tension, creating less strain on the nervous system. Botox is also used for medical conditions like hyperhidrosis, excessive sweating of the underarms, hands or feet. This medical aesthetic treatment relieves symptoms by "turning off" sweating at the injection site.
Botox Myth #6. — Botox is only for women.
They don't call it "Brotox" for nothing! Physicians and nurses have seen more men come into the office to get Botox – many of them are in their 30s. For some men, Botox can be used to soften up the face and make them more approachable. The American Society of Plastic Surgeons (ASPS) reports a 376 percent increase of men getting Botox between 2000 and 2016.
Botox Training at National Laser Institute
If you are a physician, nurse or medical professional who has a passion for the health and beauty industry, then consider taking one of our comprehensive aesthetics training courses.
In just two weeks, you will learn a variety of cosmetic injectable treatments, including Botox, dermal fillers (Restylane®, Perlane® and Juvederm®), Kybella, platelet-rich plasma (PRP), PDO threads and more!
Our CE/CME training courses are divided into two sections: didactic and hands-on training. In the classroom, you will learn proper Botox injection techniques, patient selection and more!
The second half of the course is spent doing clinical hands-on training in a medical spa environment with scheduled clients to give you real-world experience. We are the only esthetics school in the country that spends millions of dollars to schedule clients for you to work on.
After Botox and dermal filler training at National Laser Institute, you will feel comfortable and confident to perform these cosmetic injectable treatments in any medical setting!
If you are looking to learn the fast track route, you can take a Botox/Dermal Fillers weekend course! Our courses are highly customized to fit your individual needs.
If you would like to learn more about course options at National Laser Institute, fill out the form on the right or call 1-800-982-6817.