"Blackberry Botox": Extreme Use of Smartphones Can Cause Wrinkles
Fine lines and wrinkles are a natural sign of the aging process, but according to a recent article in Dailymail there's another fact that could be leading to premature wrinkles: Smartphones.
According to Dr. Jean-Louis Sebagh, staring at that tiny light up screen isn't just bad for your vision. When you look at your phone, your face scrunches up just slightly. Doing this creates strain in your facial muscles, creating tension around your eyes and between your eyebrows. You may not even realize that you're doing it, but staring at your screen for long periods of time can generate fine lines and can eventually lead into deep wrinkles. Dr. Sebagh continued to say that "[this] phenomenon 'can be seen on anyone who has and regularly checks a BlackBerry or iPhone.'"
Dr. Sebagh's solution? "Blackberry Botox." Botox treatments targeted between the brows and crows feet can eliminate signs of excessive strain on your skin that comes from staring at your smartphone. In today's society, a healthy percent of us use phones to communicate with family, friends, business partners as well as check emails, send important text messages, choose another song while listening to music, browsing the web, looking up data, and much more. In fact, those who work from a distance or from home may even spend more time staring at their tiny phone screen while working.
Dailymail also goes onto say that, "Smartphone-related wrinkles are the latest condition that doctors attribute to overuse of technology."
Botox treatments have been the #1 nonsurgical cosmetic laser treatment for the last couple of years, according to the American Society for Aesthetic Plastic Surgery (ASAPS). There were 5,670,788 Botox treatments performed in the United States in 2011, and that number has increased over the last few years.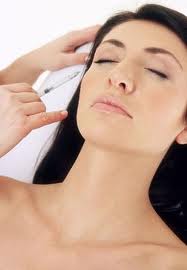 Botox is an FDA approved, nonsurgical cosmetic treatment that works by injecting the neurotoxic protein called botulinum toxin into targeted facial muscles. This is a safe and effective treatment that temporarily freezes certain muscles in the face, causing them to relax. This leads to creating a smoother skin appearance that looks natural. The entire Botox treatment takes approximately 10 minutes after consultation, and clients experience no downtime once their treatment is finished.
National Laser Institute offers Botox treatments at both our Scottsdale and Dallas medical spa with private and school appointments. Enjoy receiving quality Botox from medical professionals within a luxury medical spa environment. During your consultation, your medical professional will thoroughly discuss what your skincare concerns and goals are in order to give you the best possible treatment.
National Laser Institute has been in the medical aesthetics industry for a decade and has earned many outstanding reviews. To learn more about Botox in Scottsdale and Dallas or National Laser Institute, please call 800.982.6817.