Botox Injection Training Dallas
Botox Injection Training Dallas
Fine lines and wrinkles have the ability to add YEARS to our age, making us look much older than we actually are. Many people would rather have a fast fix than spend costly money on dangerous surgery that requires weeks of downtime, which is why Botox treatments have been the #1 choice for millions of people across the nation.
The Botox cosmetic industry speaks for itself. Last year, there were 6 million treatments performed in the U.S. alone. It's been on the rise since it's FDA approval in 2002 and has been on the market for a little over a decade. Many people enjoy Botox benefits because it's fast, effective, and shows quality results without any downtime.
Medical professionals have seen the impact Botox has made on the market, which is why many have become trained in providing Botox treatments. If you're a medical professional and interested in Botox injection training, read on to find out how you can become Botox certified with our 1-day Botox training course!
1-Day Botox Training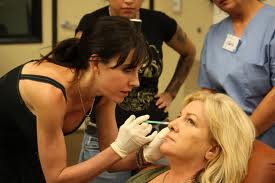 In this 1-day Botox injection training course, medical professionals will learn everything they need to know about providing and injecting Botox. This class is taught by experts in the medical aesthetic industry and is divided up into two parts. The first classroom portion covers the history of Botox, tissue interaction, aesthetics overview, and detailed information about providing Botox. The second portion is hands-on clinical training where medical professionals get to provide Botox injections to clients within a luxury medical spa environment. This portion covers client selection, pre and post care treatments, and advanced injection training. We believe that combined clinical and didactic training are necessary for quality Botox injection training.
Botox Training Dallas
National Laser Institute is the leader in the medical aesthetics industry and has been recognized as gold standard education.  If you're interested in this Botox injection training course in Dallas, please call 480-290-7399.