Botox: Not Just at Your Local Med Spa, but at Your Gynecologist?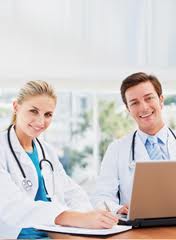 About three months ago, when I went in for my yearly feminine check up at my local gynecologist I was handed a flyer upon signing in. "Here," the receptionist said. "We've just opened medical spas at a few of our locations and have started offering some treatments. That's a coupon if you want to check it out!"
I went back to work and promptly forgot about it until I came across an article online that claimed more and more gynecologists and dentists were opening up medical spa services, like Botox, at their locations. Upon reading further, I saw why! Botox and dermal fillers were the top nonsurgical treatments sought after in the nation, with over 7 million combined treatments performed just last year. Also, laser hair reduction and skin rejuvenation also made the top list. No wonder, I thought. This is a huge industry!
Most medical professionals are able to receive Botox injection training and cosmetic laser training in order to begin providing treatments for their own clients. And without the hassle of insurance, it looks like many have given into the temptation. But where do you even begin seeking out laser training or Botox injection training? Three words: National Laser Institute.
Botox Injection Training for All!
National Laser Institute is the leading medical aesthetician school in the nation, training and offering certification medical professionals who want to add Botox, fillers, and laser to their practice. Courses range from 1 day (Botox or fillers) to a 10-day comprehensive course (laser, Botox, fillers, sclerotherapy, BHRT, and more) and CE/CME credits are offered upon completion. Best of all, medical professionals get to experience hands-on training with scheduled clients within a luxury medical spa setting after learning from leading experts in a didactic classroom environment, bringing students an all around comprehensive knowledge of medical aesthetics.
National Laser Institute
So if you're a medical professional thinking about Botox injection training or cosmetic laser training in order to add nonsurgical cosmetic treatments to your business, consider National Laser Institute. They are recognized as gold standard education and have been called the Harvard of the medical aesthetician schools across the nation. Plus, they're received a number of outstanding reviews as well as an A+ rating from the BBB. To learn more about Botox injection training or medical aesthetician schools, please call 800.982.6817.