As Market Grows, So Does Demand for Hands-On Botox Training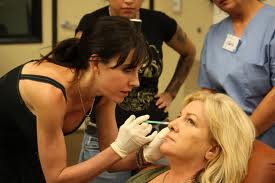 According to a recent article, Botox sales are predicted to climb 67% by 2017 with $3 billion dollars.
Over the last decade, Botox cosmetic injections have worked their way up to the top of the "the crown jewel" of cosmetic injectables. It's name and brand everyone is familiar with and doesn't look like it's going to go anywhere any time soon.
Because the rise of the market trends, there has also been a demand for qualified physicians, nurses and medical professionals to distribute the cosmetic injectables.
Medical professionals want to offer Botox to their own clients for numerous reasons. They know it has the potential to attract new clients, and they are also able to make a profit of a cosmetic treatment without the hassle of insurance. Also, Botox is a relatively fast treatment, taking under an hour to consult and perform.
Hands-on Botox Training
Botox injection training with National Laser Institute consists of learning the following objectives:
Aesthetic overview
The history and science of Botox
Tissue interaction
Clinical hands-on Botox injection training
Client selection
Pre and post-treatment care
Types of cosmetic fillers (Juvederm, Restylane, etc.)
The aging process: Why lines/folds occur and how to better treat them
Training of the upper and lower face
And much more!
Botox Injection Certification
Did you know you can earn your Botox injection certification at National Laser Institute by completing our 1-day Botox injection training course?
This short course is packed with information and taught by expert medical professionals who have spent years in the medical aesthetic industry. Attendees will receive detailed classroom knowledge as well as hands-on training with Botox injections in our luxury medical spa environment. They will have the chance to practice on scheduled clients for a real world type of learning experience.
Within a day, you have the chance to earn CE/CME credits as well as your Botox injection certification.
Medical Aesthetics Training at National Laser Institute
National Laser Institute is the leader in the medical aesthetics industry and is recognized as gold standard of education. On top of offering Botox injection training courses, we also offer a variety of other medical aesthetic courses as well as cosmetic laser courses.
To learn more about hands-on Botox training, medical aesthetician school, or National Laser Institute, please call 800-982-6817.