Botox Kits are Bad News: Why a Botox Certified Medical Professional is the Way to Go
There is absolutely nothing wrong with wanting to look more rejuvenated and youthful. In today's society, and especially with the ever-present social media, most people want to look better than their best. That's why the market of nonsurgical skin rejuvenation treatments has exploded, predicted to reach 3 BILLION just next year!
Leading the nonsurgical market are Botox treatments, the #1 noninvasive service in the nation with over 5 million treatments performed just last year. As an anti-aging miracle, Botox is capable of ridding lines and wrinkles with immediate results and no downtime.
Because of it's popularity, "Botox kits" have been emerging. This "DIY Botox" gives people the power to perform treatments on themselves at home. This is a huge no-no and a BIG mistake. There is a reason why Botox must only be performed by a certified medical professional. There are risks as well as the benefits to Botox, and more importantly it is an injection. Medical professionals are the only ones capable of performing Botox. They've spent several years prior to receiving Botox certification learning how to injection patients in a safe manner. Don't take the chance of injuring or harming yourself with these Botox kits–especially since you can't tell if the Botox is actually Allergan-certified (Botox's manufacturer).
You want to receive Botox from a certified professional, and National Laser Institute is the leading medical esthetic school that certifies medical professionals in a wide range of cosmetic medicine, including Botox!
Botox Certification at National Laser Institute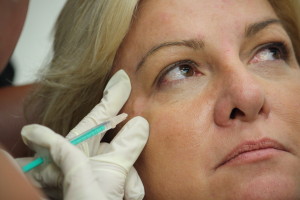 If you're a medical professional seeking quality Botox certification, look no further than National Laser Institute. Our Botox courses range from 1-day to 16-day comprehensive training (including dermal fillers, sclerotherapy, laser treatments, skin rejuvenation, etc.) Courses are led by leading medical esthetic experts in the field and provide you with hands-on clinical training in a retail spa environment so you can practice treating clients under instructor supervision.
If you'd like to learn more about National Laser Institute or our Botox certification courses, simply fill out the form on your right or call 480-290-7399.