Botox Training in a Weekend!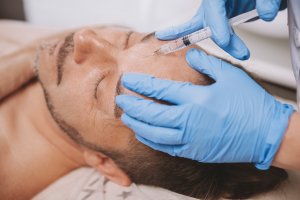 Are you a physician, nurse, or physician's assistant who wants to become a certified Botox injector? Here at the National Laser Institute, we offer courses ranging from two to six days that focus exclusively on Botox training. Our Botox training at the National Laser Institute includes both hands-on training in a luxury retail spa and classroom education. You'll walk away with practical experience in the application of Botox and fillers as well as a strong knowledge of the theoretical background of each.   
Who can perform Botox?
Botox can be administered by qualified health professionals such as Doctors, Nurses, and other health professionals. If you are someone who is looking to get into the medical aesthetic industry but you don't have a medical background, don't worry! Check out our cosmetic laser technician course!
Our Classroom Education
When it comes to learning we believe that classroom education is just as important as hands-on education so that you feel confident and comfortable administering Botox to your clients. Half of the time spent in the Botox training will be in the classroom. Classroom Botox training will include discussion and learning about the fundamentals of performing cosmetic injections. The regions that will be focused on include the frown lines, nasal area, wrinkle, forehead lines, and bunny lines. You'll go over topics such as:
Safety protocols for various cosmetic injections

How lines, folds, and wrinkles occur

Proper injection areas for Botox and dermal fillers

How to conduct the consultation process

The risks and benefits of different cosmetic injections

These lectures not only will help you understand the basics of these aesthetic procedures but will also prepare you for hands-on training in an educational environment.
Our Hands-On Education
Our hands-on education is one of the main things that sets the National Laser institute apart from other medical aesthetic schools. As a student at the National Laser Institute, you'll learn everything you need to know about administering Botox through hands-on Botox training with real, paying clients. You'll get practice doing Botox on real people in a real client scenario. Our instructors have years of experience in the medical aesthetics industry, and they will be right there with you guiding you along!
You'll also have a chance to receive treatments while you are a student. At the National Laser Institute we believe you have to understand the client experience in order to be a great Botox injector! Our clinical sessions have a low student to instructor ratio so you'll never have to worry about getting behind or not understanding how to do something. If you have questions or feel lost, an instructor will be right there to answer questions and guide you along.
CME Hybrid* Online Cosmetic Injections Course
Our NEW cutting-edge hybrid* online experience will enable you to continue on your journey towards learning injections and more. During our CME Hybrid* Online Cosmetic Injections Course you will receive a combination of online classroom and clinicals including Botox, Dermal Fillers, Off Label Botox & Filler Injections, PRP, Sclerotherapy, Kybella & PDO Threads. 
By the end of the course you'll be able to:
Identify who is a candidate for Botox and facial fillers

Understand the aesthetic consultation process

Explain why lines and folds occur and how to treat them using various cosmetic injections

Explain the indications and contraindications of dermal fillers and Botox injections

Demonstrate proper cosmetic injection technique for various anti-aging services

Explain the anatomy and musculature of the face

Understand the different types of cosmetic fillers (Juvederm, Restylane, etc.)

Identify the risks and benefits of various anti-aging services

Explain the risks, benefits, and pre- and post-care protocols
Why should you come to the National Laser Institute?
When it comes to choosing one of the many CME courses out there you want to make sure that you are investing in a course that is going to change your future in the medical field. If there is no change then why would you invest your time and money into taking a course? At the National Laser Institute, we make sure that your money and time is well worth it! After taking one of our CME courses you'll leave feeling confident in your ability to be a practicing professional in the medical aesthetics industry.
Classes lead by dermatologists, cosmetic surgeons, and leading industry physicians and medical aesthetics experts

Train on multiple, industry-leading technologies

Luxury, retail medical spa training center

Staffed with a specific team of 20 customer service/marketing agents

Medical advisory board with over 100 years of combined experience

Business development/marketing seminar

Featured in the top national health and beauty publications

Industry pioneer for education in Laser, Botox, and Filler training
Ask us about our new online hybrid* course that you can attend from the comfort of your own home by simply using your phone or computer!  If you're interested in taking a Botox training course at the National Laser Institute then give us a call at 855-637-4530  for more information! 
Be sure to check out our podcast all about getting into the medical aesthetic industry! Listen on Apple Podcasts and subscribe!