Men and the Medical Aesthetics Industry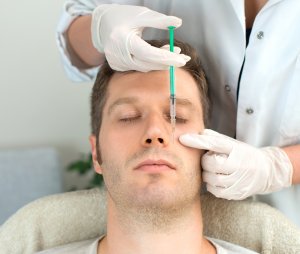 Most cosmetic procedures in the medical aesthetic industry cater to the concerns and cosmetic trends of women. However, when it comes to men and the medical aesthetic industry, the number of male clients is increasing and it is notable to cater to this emerging market segment as the industry continues to grow.
Here's an overview of men and the medical aesthetic industry, ranging from what medical aesthetic treatments are the most popular for men to the increase in the number of men that are getting cosmetic procedures per year.
Treatments For Men
Botox
Botox is a treatment that is injected into the muscles in the face. Botox is injected into the muscles, causing signals from the nerves to the muscles to be blocked. Normally signals would be sent from the nerves to the muscles in order for the muscles to contract. These are the movements that result in signs of aging such as wrinkles, fine lines, and crows feet. If the signals are prevented from being sent the contracting of the muscle never happens and therefore the appearance of the wrinkles, fine lines, and crows feet are prevented from forming and showing up on the face. 
Botox is among the more popular treatments when it comes to men and the medical aesthetics industry. When it comes to Botox for men there are a few main areas where men tend to get Botox. Among the most popular areas on the face for men are between the eyebrows, the horizontal lines on the forehead, and the sides of the eyes (the crow's feet area). Botox for men enhances a refreshed and more youthful appearance. Most men get Botox to stay more competitive in the workplace or to help with their dating prospects. From 2000 to 2015 the number of men getting Botox increased by 337%. 
Dermal Fillers
Dermal fillers are cosmetic injectables that help to add volume into the skin. Fillers create a youthful, flawless appearance and last for about six to twelve months. Men use fillers in order to get a more masculine facial look including angular cheekbones, a strong and defined jawline, and a strong chin. Filler and Botox are among the two most popular treatments when it comes to men and the medical aesthetic industry.
PRP Hair Rejuvenation
PRP injections for hair rejuvenation is a common treatment for men. When it comes to men and the medical aesthetics industry this is one of the treatments that helps with men's confidence as they go through the aging process. As men age, they tend to lose their hair. Half of men over the age of fifty experience patterned baldness. For many men, this can be an embarrassing part of the aging process. PRP injections can help with thinning hair, balding, and hair loss due to alopecia. PRP injections for hair rejuvenation is a non-surgical regrowth therapy for balding hair. Following PRP injections clients should see an increase in natural hair growth over a period of several months.
Four to five treatments are recommended for best results. Treatments for PRP injections are spaced four to six weeks apart. Following the treatments, clients can go back to their normal routine and should have little to no side effects from the PRP injections.
Coolsculpting
Coolsculpting is a great way for men to get rid of stubborn fat.  This fat-freezing procedure is non-surgical and non-invasive. Coolsculpting uses controlled cooling to eliminate stubborn fat that resides even after a strict diet and exercise. During the procedure, fat cells are frozen and gradually die off. These fat cells later leave the body through the body's natural elimination process. The best part about Coolsculpting is the fat cells eliminated from the body in that particular area are gone for good.
Kybella For Double Chin
Kybella is a great treatment for men when it comes to double chin. A Kybella treatment is identical to a naturally occurring substance in your body called deoxycholic acid. Deoxycholic acid is a substance in your body that supports fat absorption. When Kybella is injected into the chin it permanently destroys the fat cells in that area. The fats cells are naturally absorbed by the body and then processed out through the kidneys and lymphatic system. 
Two to four treatments of Kybella are needed for the best results. Treatments can be spaced out six to eight weeks apart from one another. Following the procedure swelling and tenderness may occur at the injected area for twenty-four to forty-eight hours after the procedure. 
Chemical Peels
Chemical peels are a great way for men to keep their skin's youthful appearance. A chemical peel is a treatment that uses a chemical solution in order to improve the skin's overall appearance. The treatment can reduce fine lines under the eyes and around the mouth, correct uneven skin pigmentation, melasma, and soften acne or treat scars caused by acne. It is a great way to improve the overall look and feel of the skin.
Profractional Treatment
Getting a Profractional treatment is another great option for men. The treatment initiates the body's healing response while keeping the surrounding tissue intact for healing. This treatment is great for fine lines, uneven pigmentation, scarring/stretch marks, skin laxity, acne scarring/pitting, and wrinkles.
Why Do Men Get Medical Aesthetic Procedures?
The majority of men who get medical aesthetic procedures do so for professional reasons. Maintaining a more youthful appearance is helpful in the workforce and bolsters a competitive edge. Men also get medical aesthetic procedures to appear more attractive as a prospective mate while maintaining a more youthful appearance. 
How Many Men Are Getting Medical Aesthetic Procedures?
Popularity for medical aesthetic procedures among men continues to grow. Some medical spas are even tailoring their space and marketing exclusively towards men. As the segment of male clients in the industry continues to grow it will be interesting to see if more businesses emerge catering exclusively to men.
Interested In Getting Into The Medical Aesthetic Field?
If you're interested in joining this exciting field, then take a look at one of our courses! As the leading cosmetic laser training school in the country, the National Laser Institute has created a new cutting-edge online experience to enable you to continue on your journey towards your exciting new medical aesthetics career.
If you are a career changer, esthetician, aesthetican, doctor, or nurse, consider our Online Comprehensive Laser Course where you will receive a combination of online classroom laser training and clinicals variety of instructors and live demonstrations with several hours on each modality. Modalities include Laser Hair Removal, Photofacial, Laser Skin Rejuvenation, Radiofrequency Skin Rejuvenation, Coolsculpting, Cellulite Reduction, Tattoo Removal, Radiofrequency Skin Tightening, and Microneedling. 
If you are a doctor or a nurse, consider our CE/CME Online Cosmetic Injections Course where you will receive online classroom and clinicals, including demonstrations on Botox, Dermal Fillers, Off Label Botox & Filler Injections, PRP, Sclerotherapy, Kybella & PDO Threads. 
If you are interested in getting started in a career in the medical aesthetic industry, check out our courses and give us a call at 855-637-4530!