Learning How To Inject Botox on Millennials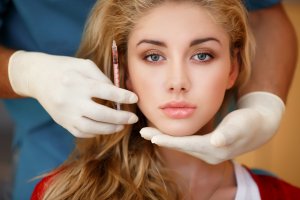 Are you looking to become a Botox injector? The field of medical aesthetics is a booming industry and Botox is fast becoming the most popular treatment  with an emerging market: Millenials. Millennials are quickly becoming a large part of the medical aesthetic industry as more and more young people are deciding to get medical aesthetic procedures done to maintain a more youthful appearance. With all the anti-aging benefits that Botox provides, it is no wonder why Millenials love Botox!  What does this mean for medical aesthetic injectors?  There is no shortage of clients now or in the future.  Continue reading to learn more about the emerging market of Botox and Millenials, and to find out how you can start your career as a medical aesthetic injector.
What Is Botox?
Botox is a drug that weakens the muscles in the face. How does it help to reduce the appearance of lines and wrinkles? Botox blocks signals from the nerves to the muscles. The muscle that has been injected with Botox is then unable to contract. This leads to wrinkles and lines that are relaxed and softened. It is essentially temporarily paralyzing the facial muscles that are the cause of wrinkles. The treatment lasts on average of between two and four months. Overtime if you get Botox consistently you can spread your treatments out further because you won't need to get injections as frequently.
Why Millenials Love Botox
So why do Millenials love Botox so much? Millennials have grown up in an age of social media, influencers, and celebrities such as the Kardashians. All this influence from the online world and filters that people use on photos of themselves has caused an entire generation to view beauty in a very different way. Millennials want to look young forever and many of them want to look the way a filter on their phone makes them look. Due to this the popularity of getting cosmetic injections such as Botox has gone up. Millennials don't have a problem getting these procedures done and see them as an enhancement to their beauty. With so many Millenials who love Botox, there is only going to be more of a demand for Botox injections in the medical aesthetics industry!
Botox Treatment Areas:
Lip pop

Brow lift

Under-eye

Masseter 

TMJ

DAO (corners of the mouth)

Neck (Platysmal bands)

Bunny lines

Gummy smile
Where Do Millennials Go To Get Botox?
Getting Botox is becoming more and more mainstream. Due to this, you can now get Botox in a variety of different settings. New medical spas that are exclusively focused on anti-aging injections such as Botox are popping up more and more as demand for these procedures grows. These mini-medical spas are set up in a similar way to how Drybar is set up. These medical spas only focus on one thing and get clients in and out. The set up is modern and stylish and everything is about comfort and convenience. The convenience of getting anti-aging injections is another reason why Millenials love Botox. 
Other Places Millenials Could Go To Get Botox Include:
The time is coming where a patient can go to their primary care doctor and receive their routine Botox injections while they are getting their annual check-up. This wasn't possible a decade ago but is now a reality with the popularity of cosmetic treatments. In the past, these treatments were primarily performed by plastic surgeons and dermatologists with several years of training. Now, primary care physicians, obstetricians, and OB/GYNs are adding different aesthetic services to their practices, because they are cash-based, and there are no insurance hassles. 
So what is a Medspa? A Medspa is a medical spa that specializes in cosmetic lasers and nonsurgical treatments such as Botox, dermal fillers, and Coolsculpting. With recent advances in technology, medical spas are expanding their offerings. Medspas are popping up all over the country as more and more Millennials are interested in getting medical aesthetic procedures and the industry across all ages is booming.
Day Spas And Beauty Salons
When most people think of a spa or beauty salon they think of massages and facials. Now, however, many day spas and beauty salons are adding medical aesthetic treatments to their offerings. Offerings can now range from laser hair reduction to Botox. Now clients can get an all-around day pampering that includes cosmetic laser treatments and injections. 
If you are looking to work somewhere where there is only one specialty offered and one type of clientele then niche boutiques are the place for you. Many of these boutiques are very small and offer only specialties such as anti-aging injections or laser tattoo removal.
In this day and age, everything is all about convenience! People go to fitness centers to become the best version of themselves. They want to look and feel better, so why not offer medical aesthetic treatments there as well? Some national fitness chains have started to offer cosmetic laser treatments as part of their in-house spa amenities. 
All of these places are great places to work as someone who does Botox injections. You'll work in a comfortable environment and give Botox injections to happy clients that you'll build a long term relationship with.
Age Range Of Millennials
Many young people are starting to get Botox in their twenties. By starting to get Botox early many Millenials are using Botox as an aging preventative treatment. The fine lines and wrinkles that start to show in your twenties and then get worse over time can be taken care of at an earlier age and prevents fine lines from deepening and wrinkles from continuing to show up. Botox lasts about two to four months. After that, the client would want to come back again in order to keep up the state that their skin is in. By starting at a young age Millenials will look youthful for decades to come as they continue to get their routine Botox injections. With the ability that Botox gives to freeze your face in time its no wonder why Millenials love Botox!
How Frequently?
Botox only lasts about two to four months. Clients need to come in every two to four months in order to keep the results they are getting from their Botox injections. Most clients come in about four times a year. The procedure is non-surgical and non-invasive. It is also incredibly fast. Clients may experience small bumps on the skin and reddening, but those symptoms go away pretty quickly. Other than that clients can go back to their normal activities following the treatment.
Industry Rise
While many industries these days are in transition as technology begins to change the way people work and do business, the medical aesthetics industry is booming! Every year people are spending more and more on cosmetic procedures such as Botox. These procedures are becoming as common as getting one's nails done and the stigma of getting these procedures is going away. What once was thought of as being exclusively for celebrities and the wealthy is now becoming common for the average person. This is an exciting time to get into the medical aesthetics industry! The industry is booming and is projected to reach 21 billion by 2024! This is definitely an industry that isn't going anywhere anytime soon! Now is the time to get started in this industry as it continues to grow and change! With so many Millenials that love Botox and are investing their money into getting cosmetic procedures, the industry is sure to be around for a long time.
Benefits of working in the medical aesthetic industry:
Working one on one with clients

Building long term relationships with clients

Getting to learn about the newest trends and technologies in the industry

Getting to be around beauty all-day

Making people feel good about themselves

Dealing with happy clients
Our Courses
Here at the National Laser Institute, we offer a variety of injectable training courses. Our courses range from as little as two days to as long as two weeks if you are interested in learning cosmetic laser treatments as well. 
By the end of your course with us you will be able to :
Identify who is a candidate for Botox and facial fillers

Understand the aesthetic consultation process

Explain why lines and folds occur and how to treat them using various cosmetic injections

Explain the indications and contraindications of dermal fillers and Botox injections

Demonstrate proper cosmetic injection technique for various anti-aging services

Explain the anatomy and musculature of the face

Understand the different types of cosmetic fillers (Juvederm, Restylane, etc.)

Identify the risks and benefits of various anti-aging services

Explain the risks, benefits, and pre- and post-care protocols
Who Can Perform Botox?
Botox can be performed by Doctors, Nurses, Physician Assistants, and other qualified health professionals.
Why Choose Us
So why should you come to our school to learn how to do Botox injections? Here are just a few reasons why you should choose us when you're looking to get started in the medical aesthetics industry:
National Laser Institute's unparalleled experience. Founded in 2004, our company has emerged as the leader in the medical aesthetics training industry.

National Laser Institute has pioneered teaching the clinical/hands-on portion of coursework in our medical spa located directly on campus.

National Laser Institute was a pioneer in the industry offering the required training by the State of Arizona in 2004, the first year that they required laser training. National Laser is approved by the Arizona Board for Private-Post-Secondary Education. We provide CME credits from the Arizona Nurses Association and the American Academy of Family Physicians.

National Laser Institute offers training on the most advanced technology and is the first laser school in the U.S. to offer courses on Fractional Laser Wrinkle Reduction, Radiofrequency Skin Tightening, Stretch Mark Removal, and Ultrasound Fat Reduction.

National Laser Institute offers the most comprehensive courses ranging anywhere from 1 day to 2 weeks.

National Laser Institute provides comprehensive instruction on laser/spa marketing, taught by Louis Silberman, President of National Laser Institute. Louis has been featured in Entrepreneur, Fortune Small Business, Les Nouvelle, Dermascope, and Skin Inc. and is one of the top medical aesthetic marketing minds in the country.
Reviews
Here's what some of our students have to say about their experience taking one of our courses!
"I highly recommend this course whether you're a professional or just entering the industry! The course was very informative. "
– Bill Candes
"NLI is a great way to kick start your career in the beauty biz. I would recommend it for anyone who wants to get into the industry and gain knowledge, skills, and experience to further their career."
– Sally Cussel
"I came to this school with a lot of anxiety but after the first day, I knew my education was in good hands! I went from feeling overwhelmed to feeling VERY overprepared for this industry. The teachers are absolutely amazing and I am blown away by the amount of knowledge they give us. Money well spent! Best decision I've ever made!"
– Courtney Overbaugh
Our NEW cutting-edge hybrid* online experience will enable you to continue on your journey towards learning injections and more. During our CME Hybrid* Online Cosmetic Injections Course you will receive a combination of online classroom and clinicals, including demonstrations on Botox, Dermal Fillers, Off Label Botox & Filler Injections, PRP, Sclerotherapy, Kybella & PDO Threads
If you are interested in becoming a Botox injector and getting started in this exciting industry, then check out our courses and give us a call at 1-480-290-7399 for more information!