Is Taping Your Face to Prevent Wrinkles Just as Good as Botox Injections?
Time and gravity will always be against us when it comes to wrinkles. But is there a way to fight gravity using . . . adhesive tape?
A product called "Frownies" claims that by using this adhesive tape, you can naturally rid forehead wrinkles, crows feet, eye wrinkles and marionette lines. All you have to do it tape up your face. (And maybe never go out in public while doing so).
Although this may work for some people, the majority of the population prefers a nonsurgical option: Botox.
Botox treatments are one of the most popular nonsurgical cosmetic treatments in the anti-aging industry. This is because Botox uses a safe and effective injectable method to temporarily prevent certain muscles in your face from contracting, which means they are forced to relax.
When these muscles relax, they smooth out lines and wrinkles, giving you a more youthful appearance.
Botox Injection Training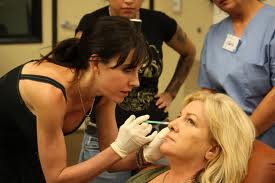 Last year, Botox treatments racked in over 6 million services provided to clients, making it the #1 nonsurgical cosmetic treatment in the nation. Because of the high demand of Botox, many nurses, doctors and medical professionals have become interested in Botox injection training.
National Laser Institute offers a 2-day Botox injection training course with the second day that covers dermal filler training.
Medical professionals have the opportunity to earn CE/CME credits while becoming Botox injection certified. This course is taught by a number of experts in the cosmetic injectable field and offers medical professionals both classroom time and clinical hands-on training where they will get to provide Botox injections to clients within a luxury medical spa setting.
This combination of intense knowledge learning and practical, hands-on techniques gives medical professionals the confidence they need to provide Botox injections to their own clientele.
During our 2-day cosmetic injectable course, students will learn:
An aesthetics overview of Botox injections.
The aging process: why lines/folds occur and how to treat them.
The history and science of Botox.
Proper Botox injection techniques and safety protocols.
Risks and benefits of Botox.
Patient selection.
Pre and post-treatment care.
National Laser Institute
National Laser Institute is one of the leading medical aesthetician schools in the nation and has earned many outstanding reviews. We are recognized as the Harvard of medical aesthetician schools and are also recognized as gold standard education.
To learn more about our Botox injection training course or more about our medical aesthetician school, please give us a call at 480-290-7399 or fill out the form on your right.