Need a Change?
Enter a New, Exciting Career within a Booming Industry in Two Short Weeks!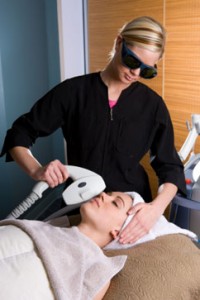 Are you someone who is tired of your job? Maybe you're sick of tedious or boring work, or maybe you don't feel passionate about your current career. If you find yourself snoozing your alarm every morning, you may be burnt out. In fact, if you're reading this, you must desire a more exciting career change!
Want in on a secret? You don't have to be stuck with that same career for the rest of your life. According to the Bureau of Labor Statistics, 2 million Americans willingly leave their current career every month. Many of them seek a new career. If you're thinking about becoming one of them, then maybe it's time to enter a more intriguing market.
Billion Dollar Medical Aesthetics Industry
The medical aesthetics industry refers to nonsurgical and noninvasive services, like laser hair removal, IPL (intense pulsed light) skin rejuvenation, radiofrequency skin tightening, laser tattoo removal and more. By 2016, this marketplace is projected to reach 3 BILLION dollars.
Did you know that one of the hottest jobs of 2014 is a career as a laser technician? You can watch National Laser Institute's AZ Family news segment that covers certification, training and careers below!
So if you want a career change, why enter this industry?
• Training only takes two weeks! (Aesthetician school, massage school, culinary school, etc. can all take between 3 – 12 months.)
• In most states, you do not need an esthetic license or medical professional background to perform these services.
• You are performing "higher ticket" services, which means you have the opportunity to make good money. (Facials and massages average around $90 per treatment. Photofacial skin rejuvenation treatments average $300-$400!)
• These treatments take a short amount of time to perform, between 20 – 40 minutes. This gives you time to see multiple clients throughout the day and increase your income potential.
• Career opportunities are endless. Most laser technicians work in dermatology clinics, doctor's offices, medical spas, salons, health care clinics, or even own and operate their own business!
Two-Week Training with National Laser Institute
As the leading laser school in the nation, National Laser Institute has been helping career changers jump into this new industry for over a decade! Our two-week laser training course is taught both in the classroom led by leading medical aesthetic experts as well as hands-on clinical training within a retail medical spa environment. You will get hands-on practice with real clients and learn all about the safety and uses of different types of advanced laser equipment.
If you're worried that you will be the only career changer in class–don't be! Most of our attendees are career changers who have no prior knowledge of cosmetic lasers or medical aesthetics!
Our Graduate Services Department offers graduates aid with their job hunt, providing between 100-200 job leads each month in order to help you find your perfect job opportunity! We also give you access to our online medical aesthetic library with thousands of pages of tools and resources to help you succeed.
Want to learn more? Simply fill out the form on your right or call 480-290-7399.