3 Skin Care Specialists Who Should Receive Laser Certification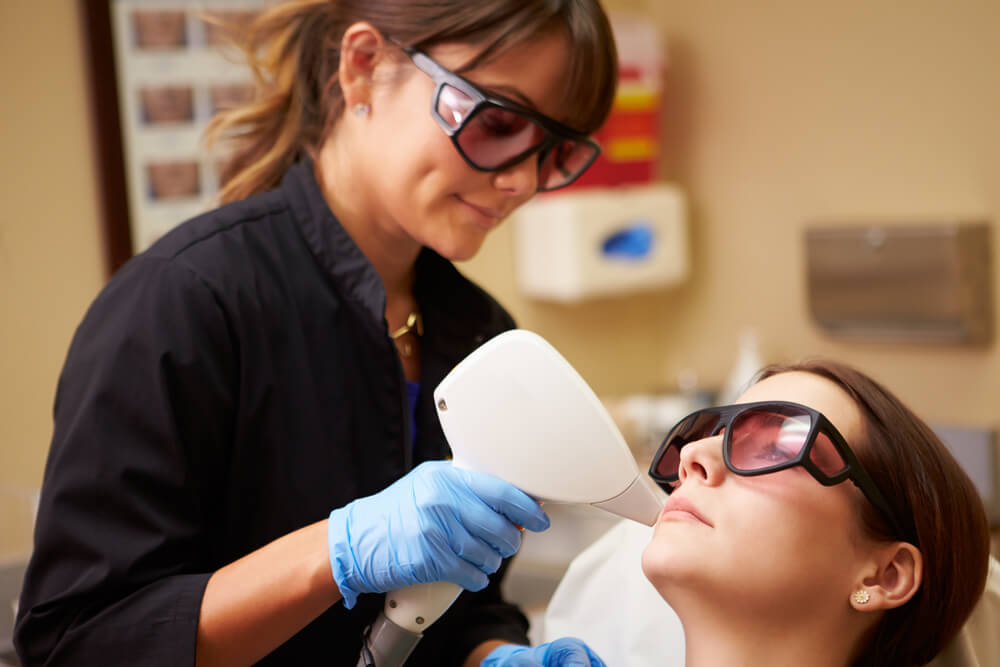 If you're in the skin care industry, chances are you love making people feel confident in their skin. You probably have a long list of clients you enjoy treating and who you've built a relationship with. Maybe you're already aware that this industry has changed in the last decade. You've most likely heard about treatments like laser hair removal or laser tattoo removal and thought, hey, I have a client who might want that!
Did you know millions of Americans receive laser treatments each year? In 2013, 1 million people in the U.S. received laser hair removal alone. Laser treatments are widely in demand for being able to quickly and effectively treat many different types of skin concerns. Below we've listed the skin care specialists who could benefit from receiving cosmetic laser training.
1. Estheticians
Estheticians already perform treatments like waxing, peels, and facials. It definitely benefits them to add laser to their repertoire. Instead of waxing, clients may want to begin investing in laser hair removal. Instead of facials, an older client may want to see more drastic results with eMatrix radiofrequency skin tightening. Best of all, laser treatments are usually at a higher price point than esthetic services. Instead of making $40 of a waxing client, you have the potential to make $100 with laser hair removal!
2. Cosmetologists
Cosmetologists enjoy using makeup applications to make someone stunning for a wedding, birthday, or other big event. But what if your client is insecure about acne? What if they have age spots or scars they'd love to remove so you have a fresh, smooth canvas of skin to apply makeup on? Becoming trained in cosmetic lasers allows you to work with a variety of cosmetic laser equipment that can reduce and eliminate skin imperfections. From laser acne reduction to MicroLaserPeels to IPL photofacial treatments, your clients will thank you for making them feel even more confident in their skin!
3. Dermatologists
Yes, even dermatologists can benefit from laser certification in Arizona and Texas. Clients who come in with acne, age spots, sun damage, and acne scars can all benefit from cosmetic laser treatments. Using IPL photofacial technology (once a client is completely off any antibiotics or other medication) can rid any embarrassing acne scars or marks leftover from those aggressive pimples. IPL photofacials can also eliminate sun damage, leaving clients with flawlessly healthy skin. For ice pick acne scars, dermatologists may want to use MicroLaserPeels to get deeper into the skin to help provide an overall smoother appearance.
Gain Your Laser Certification in Arizona and Texas
National Laser Institute offers hands-on cosmetic laser training for estheticians, cosmetologists, dermatologists, medical professionals and those seeking a new career change. Our comprehensive courses provide training on many in-demand cosmetic laser treatments including laser hair removal, IPL photofacial skin rejuvenation, radiofrequency skin tightening, cellulite reduction, laser stretch mark removal, and many more.
National Laser Institute was the first to pioneer the cosmetic laser training curriculum. In the last decade, we've trained countless individuals across the globe. At NLI, you'll learn from a variety of leading instructors–from plastic surgeons, dermatologists, aesthetic nurses, cosmetic laser specialists, skin care consultants and marketing veterans.
Cosmetic laser training only takes two weeks with National Laser Institute. To learn more about becoming a cosmetic laser tech, simply call 800-982-6817.