The Benefits of Live Medical Aesthetics Training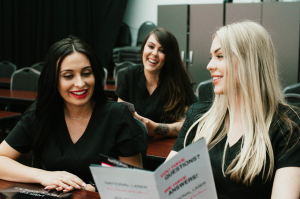 Since 2000, minimally invasive treatments like laser hair removal, Botox and dermal fillers have risen in popularity – a whopping 186 percent – and has contributed to a greater interest in the medical aesthetics industry!
This dramatic increase in aesthetic procedures is attributed to factors such as an aging population, more disposable income and affordable treatment prices.
Perhaps the most significant contributor is the realization that you do not need to go under the knife to achieve aesthetic enhancements. Cosmetic treatments can achieve similar results with minimal downtime and little discomfort.
The popularity of minimally invasive procedures has increased the demand for skin care specialists like cosmetic laser technicians and cosmetic injectors. This is why more people have chosen to attend live medical aesthetics courses.
Why You Should Attend Live Medical Aesthetics Training
If you are considering medical aesthetics training, there are several benefits to attending a live aesthetics training as opposed to online courses:
Networking opportunities. Medical aesthetics courses have a significant impact on professional growth opportunities for esthetics careers. Connections made during training can open new career paths that you never knew existed!
Guest speakers. Some medical aesthetics schools bring in guest speakers from various cosmetic laser and injectables companies to discuss the latest industry trends, so you can start implementing what you learn after your course! Reps from skin care companies may also speak, giving you tips on how to incorporate various products into a treatment plan. This gives you another opportunity to network with professionals in the health and beauty field.
Hands-on training. Online esthetics courses that advertise they offer hands-on training show a collection of demonstration videos that walk students through various treatments. With live CE/CME and cosmetic laser courses, you can perform and practice the new skills you learned all while receiving guidance and immediate feedback from your instructor.
Finding The Right Aesthetics Training
Training is essential for any career in the medical industry, and aesthetics is no different. The health and beauty industry is growing, so it is necessary that cosmetic laser technicians and injectors have the proper training in this area and are up-to-date on the latest treatments and industry trends.
Whether you are an experienced medical professional in the biz looking to advance your skills or you are new to the industry, training is a must. It is important to find a course that not only fits your learning goals but also provides adequate hands-on training for a comprehensive learning experience.
One thing that sets National Laser Institute apart from other medical aesthetics schools is we place students in small, intimate groups during clinicals to ensure you will receive the most from your educational experience. The best part is you will work on a variety of clients we schedule for you so that you have real-world experience!
Medical Aesthetics Training at National Laser Institute
At National Laser Institute, we offer CE/CME and cosmetic laser courses for those considering a career in the medical aesthetics industry.
Each course includes classroom education and clinical hands-on training for the ultimate learning experience! It is our goal for you to walk away feeling comfortable and confident with your newfound skill set.
Our Comprehensive Laser Course is for estheticians, cosmetologists and career changers looking to become a cosmetic laser tech. This course is jam-packed with valuable information such as how lasers work, patient care and clinical applications. Students will learn procedures such as laser hair removal, laser tattoo removal, skin tightening, body contouring (CoolSculpting) and more!
Physicians, nurses and medical professionals can enroll in our Botox and dermal fillers courses that are meant to provide advanced esthetics education in Botox, dermal fillers, platelet-rich plasma (PRP), PDO threads and sclerotherapy.
To help you with your job search, our Graduate Services Department sends out over 500 job leads a month to alumni across the country. Previous students have found careers working in laser and niche clinics, medical spas, physician's offices, salons, fitness centers and more!
If you are interested in learning more about aesthetic laser training courses at National Laser Institute, call at 1-800-982-6817 or fill out the form on your right.