Cosmetic Laser Hair Reduction Training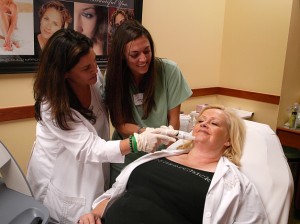 Laser hair reduction treatments are a large part of the growing nonsurgical cosmetic industry. This is a billion-dollar marketplace that also houses other nonsurgical treatments like Botox, laser skin rejuvenation, fillers, and more. People today want to obtain beauty on a budget, and for some, that means tossing away the idea of dangerous and pricey plastic surgery options. Now is a great time to get laser hair reduction training and get into this booming industry!
With laser hair reduction, customers gain access to affordable skincare treatments with revolutionary laser technology. And because this marketplace keeps growing each year, more and more people are searching for ways to get a piece of the cake. This is where laser hair reduction training comes in.
Work World as a Laser Hair Reduction Technician
So you want to be a cosmetic laser technician? The good news is that there are many job opportunities available once you receive your laser hair reduction training. We have seen many of our graduates go forward to work for medical spas, dermatology clinics, doctor's offices, laser spas, salons, and more. Some have even started their own laser business within states that allow experienced laser technicians to do so.  However, there are some states that have strict regulations, only allowing laser hair reduction technicians to work in a medical professional environment under physician supervision. As a laser technician, you can also work full or part time. Many also work on weekends, since that is most people's day off.
Educational Requirements
In most states, you need your high school diploma or GED to enroll in a laser hair reduction training course. There are some states that only allow medical professionals to work with cosmetic lasers after training. It is important to check your state's regulations and requirements before attending a laser school.
Laser Hair Reduction Training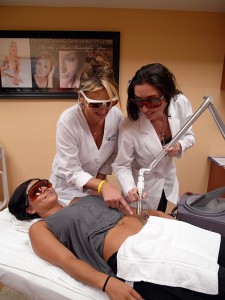 Your education is one of the most important parts of becoming a laser technician. Before choosing a program, you must heavily research the laser schools you want to attend. Unfortunately, there are some laser schools out there that participate in fraudulent educational offers, which means they can charge you a very pricey tuition but not give you certified laser training that meets 100% of your state's requirements. Be very careful of this. Also, you want to choose a laser training course that offers BOTH classroom and hands-on training. We thoroughly believe you cannot gain well-rounded laser training without classroom textbook learning and hands-on training with scheduled clients.
Luckily, National Laser Institute is a laser school that meets both of these requirements. In fact, National Laser Institute pioneered the laser training educational curriculum for other laser schools across the nation. The comprehensive laser training course educates you in laser hair reduction as well as other in-demand cosmetic laser treatments. We also offer you certified laser instructors as well as medical professionals who have been in the medical aesthetics industry for years. Plus, you get to learn on state-of-the-art, up-to-date, revolutionary cosmetic laser technology AND gain hands-on training with scheduled clients within a retail medical spa environment. National Laser Institute is dedicated to providing an exceptional educational experience, and we constantly work to improve so that we continue to be the best in the industry.
Laser Technician Salary
According to the U.S. Bureau of Labor Statistics, the salary for skincare specialists may range from $15k-$50k. We have personally seen an hourly rate between $15-$25 dollars an hour, which may include commission. There are also commission-only pay structures as well as salary only pay structures.
National Laser Institute
National Laser Institute is the leader in the cosmetic laser industry and offers many laser hair reduction training courses in order to meet your needs. We are a laser school recognized as gold standard education and are also recognized as the Harvard of laser schools across the nation. To learn more about laser hair reduction training or National Laser Institute, please call 480-290-7399.