August is Just Around the Corner, So Start Fall Off by Receiving Your Laser Training Education!
Sometimes I can't believe how fast summer flies by! August is just next month, and that means you're probably getting ready to sent the kiddos back to school, seeing school supplies all over your favorite grocery store, or spotting ads on TV for the latest back to school clothes trends. School seems to be a common theme for August, so why not make it a common theme in your life?
If you've ever considered entering the health and beauty industry, the best way to start is with cosmetic laser training. We highly recommend esthetician school as well, but laser training only takes two weeks to become trained whereas esthetician school takes up to six months. And when you attend a laser school first, you can a deeper understanding of the epidermal and dermal layers of skin that you can apply in esthetician school.
The big question is . . . what laser school should YOU choose?
Medical Esthetician Schools for Lasers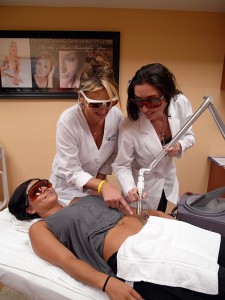 The best medical esthetician school that teaches you everything you need to know about cosmetic lasers and the cosmetic laser industry is National Laser Institute! In fact, we are the leading laser school in the nation. To jump start your career, we offer a wide variety of laser training programs. The most popular by far is our comprehensive laser course, which gives you hands-on training with laser hair removal, photofacials, cellulite reduction, laser stretch mark removal, laser acne reduction, laser wrinkle reduction, skin rejuvenation methods, and more.
What really makes a good laser school is not the location, but the quality of education that is offered to you. We realize that, which is why our courses are taught by the best of the best expert laser technicians and medical professionals within the medical esthetic industry. Time is spent in the classroom and through hands-on clinical training because we know taking the time to practice your techniques on clients in a medical spa setting will give you the skills and confidence you need to put your knowledge to work on your own clients!
National Laser Institute
So why NOT going back to school with the kiddos? You can enroll today for one of our August classes. We recommend enrolling quickly, as seating does fill up fast since we like to keep the classroom small for more individualized attention. To learn more about laser training or National Laser Institute, you can call 800.982.6817.