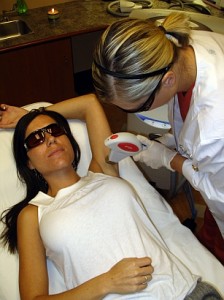 Hair removal is something that most people can appreciate. Nearly everyone, male and female, shaves off unwanted hair several times a week or more. Tweezers, home waxing kits, threading and sugaring are other methods frequently employed to get rid of unsightly hair. The truly determined go to a salon for professional waxing.
However, none of these hair removal methods are permanent. The results last longer with some methods than others. Eventually, though, the hair will start to come back, creating a prickly stubble that is irritating and unwelcome.
That is why laser hair removal has gained such incredible popularity in recent years. It is permanent and the procedure is painless. In fact, in 2013 there were over 1 million laser hair removal treatments in the United States alone. Laser hair removal is also one of the top nonsurgical cosmetic treatments in the nation and has continued to increase in popularity over the laser decade.
Hair removal school in this day and age isn't just about gaining certification to wax clients. The real money maker lies within laser hair removal, which is why more and more people are attending laser hair removal training courses. The best part? It only takes two weeks or less to gain certification!
Demand Excellence in Your Hair Removal School
As you might expect, laser hair removal technicians are in high demand. If you would like to become a part of this thrilling industry, you need to attend laser hair removal school.
At National Laser Institute, we are the nation's premier hair removal school. We are currently accepting student enrollment right now. When you come to school with us, you will receive laser hair removal training that is truly above average. No other hair removal school provides the quality and depth of instruction that we do. Our instructors are the tops in their field and they are dedicated to your success.
Our two-week laser training course not only teaches you laser hair removal, but also a variety of other leading laser services like IPL photofacial skin rejuvenation, radiofrequency skin tightening, laser tattoo removal, acne therapies, and more! This course includes hands-on training with state-of-the-art laser equipment in order to provides students with as much real life experience as possible. For those who cannot attend our two-week course, we also offer night classes.
We will be happy to talk with you further about our training program. You can also view our current course offerings or sign up for our free, live webinar that we host each month. Call us today at 1-800-982-6817 or fill out the form to your right.
Want to take a virtual tour of our school? Simply watch our video below!