The Hottest Career In Health Care For 2019!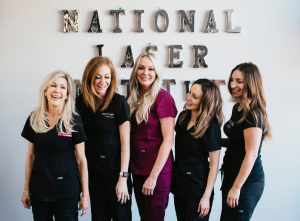 Are you interested in helping others look and feel their best? If so, then there could be a new opportunity waiting for you in the medical aesthetics industry!
A cosmetic laser technician is the hottest career in health care for 2019, with more exciting career opportunities added each day.
As the marketplace continues to expand, more businesses are looking to hire skin care specialists to perform these anti-aging services.
Before you can work in the health and beauty field as a cosmetic laser tech, you must attend a medical aesthetics school to receive the proper training and certification. National Laser Institute offers medical aesthetics courses for those looking to make a career change and enter the hottest career in healthcare.
What Is A Cosmetic Laser Tech?
A cosmetic laser tech is a skin care specialist who performs laser treatments such as laser hair removal, tattoo removal, skin tightening and body contouring (CoolSculpting). They typically work at a medical spa but can also be found working at physician's offices, fitness centers, niche clinicals and other settings.
Most states require laser certification; however, the regulations will vary in each state. Several esthetics schools also offer continuing education courses for medical professionals who want to start careers in the aesthetics industry.
A common misconception about the field is people think you must be an esthetician or nurse to become a cosmetic laser technician. People from all walks of life, whether they are hair stylists, real estate agents, accountants or stay-at-home moms are capable of achieving a new career in two weeks!
How To Become A Cosmetic Laser Tech
Medical aesthetics training is necessary for anyone who wants to work in the health and beauty field, offering treatments like laser hair removal. These courses include classroom education and hands-on laser practice for students to feel confident in their newfound skill set.
National Laser Institute offers cosmetic laser training where you will learn several skin rejuvenation techniques to deliver effective treatments to your clients. For the ultimate learning experience, our courses are specifically designed to include didactic theory and hands-on clinical practice.
In the classroom, your instructor will lead in-depth discussions about the Fitzpatrick scale for skin typing and laser biophysics. Other topics covered during classroom education include:
Different types of light-based devices and how they interact with the skin
Patient selection criteria and the consultation process
Possible side effects and how to manage them
The second half of the course is when you will complete your hands-on training in a medical spa environment. After watching comprehensive laser demonstrations, you will treat scheduled clients to put your skills to the test. To truly understand what your future clients will experience, we encourage you to have the procedures yourself!
Medical Aesthetics Training For Career Changers
Are you ready to begin your journey in the hottest career in healthcare? National Laser Institute offers medical aesthetics training for career changers that can be completed in just two short weeks!
With over 15 years of excellence, our cosmetic laser courses include classroom education and hands-on training for a comprehensive learning experience! We want our students to feel comfortable and confident in the skills that they learned.
Our Comprehensive Laser Course is the most popular among students because it encompasses a wide range of treatments and equipment while providing students the opportunity to treat several scheduled clients within a retail medical spa.
The first five days of this course are spent in the classroom where you will learn from experienced and professional instructors with seven to 20 years of experience in the field. The remaining days are spent in an educational environment where you will witness comprehensive demonstrations and administer several cosmetic treatments on clients that we book for you!
After completing your course, you will have access to our Graduate Services Department. Our knowledgeable staff is here to set you up for success after you graduate. Our team works around the clock to send out over 600 job leads a month to our alumni! Previous students have found rewarding careers working at physician's offices, fitness centers, niche and laser clinics, and medical spas.
To speak with an Admissions Advisor about courses at National Laser Institute, fill out the form on the right or give us a call 1-480-290-7399.