Laser Hair Removal Courses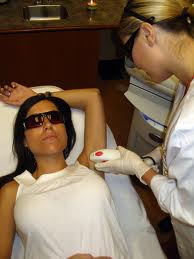 Making the decision to become a laser hair removal technician is an exciting one. You will be embarking on a fun and potentially rewarding new career. Best of all, this is a career that helps people by making them feel good about themselves.
Of course, you will need training to become a laser hair removal technician. While you can find training courses almost anywhere, these courses vary considerably in quality. Not every training program allows you to practice on actual clients. Few have a structured classroom environment. Some courses will send you out the door with a certificate in hand without ever really teaching you how to set up and run your business.
National Laser Institute is the leading laser school in the nation and the first to pioneer the laser training curriculum. By attending one of our many laser hair removal courses, you are sure to receive the highest standard of educational excellence in the cosmetic laser training field.
Laser hair removal is one of the top 5 nonsurgical cosmetic treatments performed in the United States. In 2013, there were over 1 million laser hair removal services in the U.S. alone, according to the ASAPS. Because laser hair removal takes away the hassle of shaving or waxing permanently, many clients discover that it's worth the time and money.
Laser Hair Removal Courses at National Laser Institute
Before you begin offering these services, you need to receive training. National Laser Institute's laser hair removal courses are led by industry experts, teaching you everything you need to know about cosmetic lasers. Our curriculum covers laser safety, the Fitzpatrick scale, biophysics, laser equipment and functions, client selection, hands-on training, pre and post care treatments, and much more.
Our laser courses range from a few days to two, comprehensive weeks. We also offer night classes for those who's schedule works best in the evening.
At National Laser Institute, we are different. We are a laser school dedicated to your success as a laser hair removal technician. As such, we provide experienced, qualified instructors in a traditional classroom setting. Class sizes are kept small in order to allow you adequate attention from your teachers. Hands-on experience is provided in an actual spa so you can get the real experience you need. When you take laser hair removal courses with us, you will receive all the tools you need to successfully graduate from the program and obtain your certification.
Remember, once you have taken our laser hair removal courses, you can always come back for free if you need a refresher. We also have an attractive financing package for those who need assistance. Call us at 1-800-982-6817 or fill out the form on your right for further information.
What are our students saying about NLI? Check out our testimonial video below!