Laser Tattoo Removal Training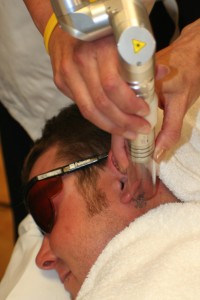 According to the ASAPS, 11 million surgical and nonsurgical treatments were performed in the U.S. in 2013. 83% of this were nonsurgical treatments, like laser tattoo removal. In fact, there were over 45,000 laser tattoo removal treatments performed in 2013 in the United States alone!
Those interested in skin rejuvenation or anti-aging services are typically interested in cosmetic lasers, especially since the demand for laser treatments has increased in the last decade. In most states, you do not need to be a medical professional in order to become a laser technician. It only takes two weeks to earn your laser tattoo removal training.
How much can I make as a laser tattoo removal tech?
The average laser tattoo removal treatment costs $200, and most clients will need at least 7 treatments to see clear results. If your client returns each month for a $200 treatment, you've made $1,400 in profits. However, it only takes a quick 10-15 minutes to perform laser tattoo removal. This means if you see 4 clients in an hour, you've already made $800 off all four clients!
But do clients pay this much for laser tattoo removal? Absolutely. It's a permanent way to remove unwanted ink instead of spending money on expensive makeup every time they want to cover up a tattoo or even multiple tattoos. In fact, an article on Market Watch stated, "laser tattoo removal procedures climbed 32% from 2011 to 2012." People get tired of old tattoos, regret their mistakes, find it hard to obtain jobs, etc. When people feel like they are being held back by their ink, a number of them turn to laser tattoo removal treatments.
How does laser tattoo removal work?
Laser tattoo removal isn't a complex procedure. As stated before, it only takes between 10 and 15 minutes to perform. Laser tattoo removal treatments work by using a cosmetic laser to target intense light pulses onto the tattoo's pigment. The laser causes the tattoo's pigment to break up into fractionalized pieces and is then flushed out safely through the body's lymphatic system. It's a quick and harmless treatment and is said to work faster than the creams and potions.
Career opportunities 
People who receive tattoo removal training have the opportunity to expand their horizons in the career field. Many work in tattoo parlors, dermatology clinics, doctor's offices, medical spa's and more. Laser tattoo removal training has continued to be such a huge success because the career opportunities are flexible. Also, the industry has been experiencing an influx of customers which doesn't show signs of slowing anytime soon.
There are many benefits to receiving tattoo removal training, including:
• The opportunity to work in the health and beauty industry
• Gain the ability to make a large income
• Work within a successful and growing industry
• Work flexible hours
• Interact and build relationships with clients
Laser tattoo removal training at NLI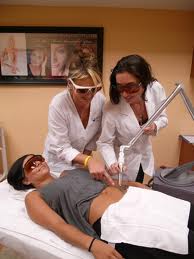 National Laser Institute, the leading laser school in the country, offers laser tattoo removal training for those looking to enter the health and beauty industry.
Throughout this course, attendees will learn everything they need to know about cosmetic lasers, including laser safety, the Fitzpatrick scale, tissue interaction, client selection, equipment functions, settings, and terminology, pre and post care treatments, and much more.
Our laser tattoo removal training course is led by industry experts in the field. Attendees learn both in the classroom and through hands-on, clinical training with clients in a retail medical spa environment for maximum educational experience both on and off the floor. We want every attendee to experience the best possible training possible.
After graduation, NLI offers graduates access to our Graduate Services Department that provides 100-200 job leads each month as well as answers any and all questions you may have. You also gain access to the largest online medical aesthetic library with thousands of pages of useful resources, including statistics, clinical studies, statistics, videos, and more.
Want to know when our next laser tattoo removal training courses are? Simply view the 2014 dates below!
National Laser Institute was the first to pioneer the laser training curriculum and has been around for over a decade. We are dedicated to educational excellence and have many starred reviews as well as an A+ rating at the BBB.
To learn more about tattoo removal training or National Laser Institute, please call 800.982.6817.
[box title="Just Tattoo Removal" width="auto"]
Arizona
January 20 – 30
March 24 – April 3
May 19 – 29
July 21 – 31
September 22 – October 2
November 3 – 13
Texas
February 17 – 23
April 28 – May 4
June 16 – 22
August 18 – 24
October 20 – 26
December 1 – 7
[/box]
Read more information on: