Laser Technician Salary & Training Information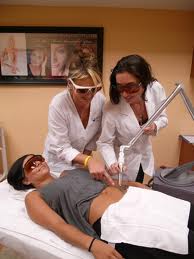 Laser training refers to learning about cosmetic lasers, how they work and how you can safely and effectively provide treatments to your own clients.
Unlike aesthetician courses, which can take months to complete, students who want to receive laser training can complete it in a short amount of time, usually in a 1-2 week course.
Many of the higher quality laser training courses offer both hands-on training with laser equipment as well as classroom lectures, where students learn everything from laser safety, regulations and laws, how devices react with skin types, and more.
There are certain guidelines that an individual must be familiar with before enrolling in a course. For instance, certain states have laws and requirements for their laser technicians. Some states may let anyone receive training, but other states have laws that strictly say doctors or nurses can operate a laser.
Those who do wish to enter a laser training program must receive the proper amount of clinical hours, and pass the course in order to receive laser certification. Also, because lasers are powerful and can be dangerous in inexperienced hands, ANSI (American National Standard Institute) requires both educational schools and facilities that offer lasers to have a laser safety officer present.
Laser Technician Salary
Many people who want to enter the laser industry often ask about salary. As someone who's been in the medical aesthetic field for a decade, we typically have seen our graduates, as well as other laser technicians, earn between $15-$25 an hour plus commission, which can be anywhere between 3%-20%.
According to the U.S. Bureau of Labor Statistics, laser hair technicians fall under the category of skincare specialists. They've found that laser technicians in a wide field of work have an annual salary of $28,920 (data of 2010). They go on to say that those in the health and beauty industry, such as those who work in salons and medspas, receive an average pay of $11.89 an hour. Those who are in the medical industry and work in dermatology clinics and doctor's offices typically receive $18.45 an hour.
Laser Technician Careers
The cosmetic laser industry has been growing over the last few years. The Bureau of Labor Statistics stated that they foresee a 38% increase in career opportunities for laser technicians between the years 2008-2018. We've seen our graduates go off and obtain careers in everything from dermatology clinics, medical spas, salons, doctor's offices, and even set up their own laser clinics.
Who We Are
National Laser Institute is the leader in the medical aesthetics industry and is committed to each and every one of their student's success. We offer hands-on training with scheduled clients so that students get a real world feel for working with cosmetic laser treatments.
Students will also learn in a classroom setting from expert laser professionals. Our two week course covers everything students need to know when it comes to performing the most in-demand laser treatments. We are proudly recognized as a gold standard of education and have received many outstanding reviews.
To learn more about laser technician training or National Laser Institute, please call 800-982-6817.