Laser Technician Training
Being successful as a laser technician depends a lot on the training you receive. You have to have laser technician training in order to become certified.
In most states, you must be certified in order to practice your craft. Laser certification also lets your clients know you have been professionally trained and are competent to operate laser machinery.
Laser technician training is appropriate for many different people. Anyone who wants to start a new career or make a career change to the medical aesthetics field is a good candidate for laser technician training. Those who already work in the aesthetics industry, such as makeup artists and skin care consultants, can benefit from adding laser training to their professional competencies.
Laser technicians not only perform laser hair removal treatments, but also:
IPL photofacial skin rejuvenation
Radiofrequency skin tightening
Laser tattoo removal
Laser stretch mark reduction
Acne reduction therapies
And much more!
Cosmetic technology has grown and advanced over the last decade. In fact, laser hair removal and photo rejuvenation are among the top 5 most-performed nonsurgical cosmetic treatments in the U.S., according to ASAPS. The medical esthetics industry is a 15 billion dollar marketplace. It's no surprise that so many people have become interested in this field!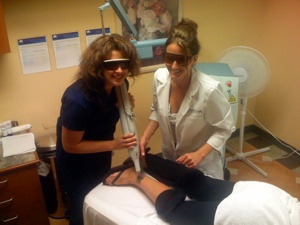 Enroll Now for Laser Technician Training
For truly superior laser technician training, there is no better school than National Laser Institute!
We provide extensive classroom training in laser aesthetics and laser safety combined with carefully supervised hands-on training in our own spa facility. Our instructors are some of the most experienced technicians in the industry. You will get the individual attention you need to succeed here.
We even include instruction in how to set up and market your own laser aesthetics business. No other laser training institution will offer you that.
National Laser Institute also offers you access to our Graduate Services Department, which provides over 500 job leads each month and is always there to answer any questions or concerns you may have. As a graduate, you also gain access to our online medical esthetics library, which contains thousands of pages of information in this industry including statistics, clinical studies, marketing methods, equipment information, and much more. We even offer night classes!
You can look at our current course schedule by further browsing our website. We offer financial aid to qualified students. You can also come back to us for free at any time for additional training.
Call us today for further information on cosmetic laser training at 800-982-6817 or fill out our form to the right.