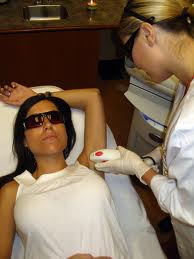 Laser training in Arizona has been one of the most popular training courses for medical professionals and estheticians.
However, most people aren't aware that beauty professionals and career changers are also able to attend laser training courses in the state of Arizona.
Laser training covers many of the most in-demand laser treatments, such as laser hair removal, laser tattoo removal, laser stretch mark reduction, laser acne reduction, laser wrinkle reduction, cellulite reduction, and many more.
Last year, there were over 1 million laser hair removal treatments performed in the U.S. Laser treatments have become a must-have staple in many Americans minds because it is now affordable and results in no downtime. To learn more about laser, read on.
Who can train?
Physicians
Nurses
Physicians assistants
Dentists
Estheticians
Healthy and beauty professionals
Career changers
+ More
Laser course outline
Our comprehensive laser training course includes the following:
Laser safety training, teaching students the utmost importance in safety and how it affects treating clientele
Didactic classroom training with expert laser professionals who teach you everything you need to know about the latest cosmetic laser treatments, skin type, how to fire lasers, tissue interaction, and more.
Hands-on training with scheduled clients in a luxury medical spa where you, under the supervision of a laser professional, will perform a wide variety of cosmetic laser treatments on clients in order to gain real-world experience.
Laser certification
Once you've completed your two-week laser training course, you will earn your laser certification. If you are a medical professional, we have CE/CME credit opportunities for you.
Getting the information you need
National Laser Institute understands that choosing the right laser training facility is important, so we're here to answer any and all questions you have in regards to regulations, certification, training requirements, and more.
We are the school who has pioneered the laser training curriculum for laser schools across the nation and a laser training facility many students return to for additional medical esthetic courses. We have earned a gold standard in education as well as an A+ rating from the BBB.
To learn more about laser training or National Laser Institute, please call 800-982-6817.