The Best Time for Laser Training is in the Summer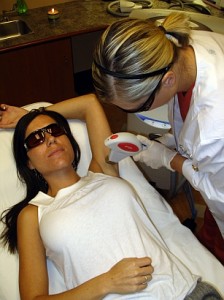 The top nonsurgical skin rejuvenation treatments include Botox, dermal fillers, laser hair removal, and more. The cosmetic laser industry has been booming over the past decade, especially since many cosmetic lasers on the market are safe, effective, FDA approved, and show outstanding results. More and more people have been seeking out cosmetic laser treatments, whether it's for hair removal, tattoo removal, stretch marks, wrinkles, facial impurities, or more. Cosmetic lasers have advanced so much that they are able to treat many of the most common skin concerns.
What most people don't know is that laser training, in many states, only takes a few weeks. Not months–weeks–to get trained. Cosmetic laser training includes learning in depth about the skin and how it reacts to cosmetic lasers, and how to perform many of the top laser treatments offered in medical spas today. The best time to achieve laser training, though, is in the summer. Think about it: the kids are out of school at summer camps or other activities, and by fall you could be working with your own clientele!
Qualifications and State Regulations
In order to qualify to become a laser technician, you must have a high school diploma or GED. There are some states where only medical professionals can attend a laser training course, so be sure and check your states regulations. For more about regulations, you can call 800.982.6817.
Also, many states require laser technicians to take a laser safety course alongside laser training. National Laser Institute includes laser safety in their courses. Also, some states require laser technicians to take a laser hair removal course, even if they just want to learn tattoo removal.
Laser Training Class Modalities
The best course for new laser technicians is National Laser Institute's two week comprehensive laser training course. In this class, you will learn:
Laser and IPL
Laser safety
Laser and IPL hair removal
IPL photofacials
Acne (active and scar) reduction
Laser tattoo removal
Laser spider vein reduction
Cellulite reduction
Microcurrent
Lamprobe
Dermal Infusion/Vibration non-crystal advanced microderm
Radio frequency skin tightening
Laser facial peels
Hands-On and Experts in the Industry
National Laser Institute's laser training courses offer hands-on, clinical training for students. Students have the opportunity to practice on scheduled clients within a luxury medical spa setting. Students will also learn within a didactic classroom setting with lessons provided by experts in the field of medical aesthetics. National Laser Institute's medical aesthetician school has been called the Harvard in the medical aesthetics industry and is dedicated to providing students with in-depth, quality education so that they may feel confident and comfortable performing cosmetic laser treatments on their own clients.
Why National Laser Institute?
National Laser Institute is the leader in the medical aesthetics industry and has earned many outstanding reviews. We offer a variety of cosmetic laser and injectable courses, even offering medical professionals CE/CME credits upon course completion. We have also earned an A+ rating at the BBB and are recognized as gold standard education.
To learn more about laser training or medical aesthetician schools, please call 800-982-6817.