Boosting Your Esthetician Career with Cosmetic Laser Training
As a society, we always want the latest and greatest technology. The same can be said for the skincare industry. There are always so many commercials advertising the best anti-aging and acne creams so you can have clear and beautiful skin. But cosmetic laser technology takes all of that one step further by offering revolutionary and advanced skin care treatments.
At National Laser Institute, we train estheticians who are interested in becoming trained within the world of cosmetic laser treatments and technology. Best of all, at the end of this two-week cosmetic laser training course, you'll be comfortable and confident enough to go out and treat your own clients.
Wait, Estheticians Can Receive Laser Training? I Don't Have to be a Doctor?
In most states, you do not need to be a medical professional to earn your laser training training. However, it is best to check with your state's regulations before considering training. But yes, many estheticians in a wide variety of states are now practicing cosmetic laser treatments on clients after having received training!
What Types of Cosmetic Laser Treatments Can I Perform?
Laser hair reduction
Laser skin rejuvenation (photofacials)
Laser tattoo removal
Laser acne reduction
Laser skin tightening (radiofrequency)
Laser cellulite reduction
Laser stretch mark reduction
+ Much more
How Long Does Training Take?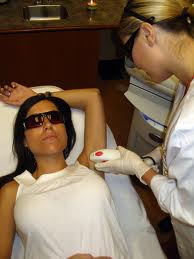 At National Laser Institute's medical esthetician school, we have a two-week laser training course for estheticians that covers a comprehensive overview of laser safety and a variety of laser technology. We highly recommend this course if you're looking to offer a wide array of treatments to your clients.
This class is broken into two parts. The first part is classroom training from experts in the medical esthetician field. The second part is hands-on clinical training with scheduled clients in our luxury retail medical spa for you to practice different kinds of treatments on real clients!
What Are My Career Options Like?
As an esthetician who also specializes in laser technology, you're able to work anywhere from doctor's offices, dermatology clinics, medical spas, fitness centers, laser facilities, and much more!
National Laser Institute
National Laser Institute is the leading medical esthetician school in the nation and is recognized as gold standard education. We were the first to pioneer the laser training curriculum that laser schools use across the nation. To learn more about laser training or medical esthetician school, please call 800.982.6817.