More Dermatologists Gaining Laser Certification to Practice Treating Client's Skin with Cosmetic Lasers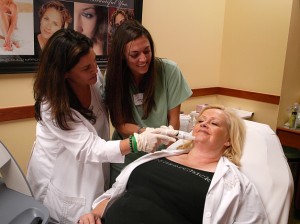 It seems there is more to the practice of skin care than prescribing pills and creams. Since the rise of the cosmetic laser treatments, many people have been willing to try out lasers in order to get the results they desire. With well over a million laser treatments within the last decade, it's clear that advanced cosmetic laser treatments are the "new" creams.
"A few years ago, my dermatologist prescribed me Accutane after I'd tried a bunch of acne prescriptions with no results," Jamie Collins, a patient of a CA dermatologists says. "While that cleared up my acne, I had a ton of scars left over–reddish brown and super unattractive. When I found out I could get an IPL photofacial to help rid those scars after being off Accutane, I tried it. The results after a few sessions few AMAZING! Way better than the cream I'd been using."
"I saw before and after pictures of the BBL acne laser treatment in the lobby of this dermatologists a few," Jamie's mother says. "It's a relatively new treatment, but if I'd have known it could clear up acne in around 6 weeks, I would have brought Jamie in for those treatments instead of putting her on Accutane!"
More dermatologists are incorporating cosmetic lasers into their practice because they realize the advanced technology is very beneficial, safe, and shows fast results when applied to client's skin concerns. However, before dermatologists can offer these laser treatments, they need to attend a laser training course to achieve certification. Do not let your dermatologist practice cosmetic lasers on your skin when you know they do not have proper laser certification.
Lasers for Acne, Wrinkles, Unwanted Pigments, and More
Cosmetic lasers are incredible for treating a variety of common skin concerns, like acne, wrinkles, sun damage, scarring, unwanted pigments, age spots, and much more. There are different types of cosmetic lasers for different treatments and at National Laser Institute, we teach dermatologists on the most advanced, state-of-the-art laser equipment and school them with cosmetic laser safety.
Laser Training in Two Weeks
National Laser Institute's cosmetic laser school offers dermatologists a two week laser training course. This is a comprehensive course that covers laser treatments with acne, cellulite, fat reduction, stretch marks, veins, hair removal, and much more. This is the perfect course for any dermatologist looking to add a variety of cosmetic laser treatments to their practice in order to help treat a multitude of different skin concerns.
Best of all, this laser training course is hands-on, so dermatologists won't be sitting in a classroom the entire two weeks. Dermatologists will receive clinical training with scheduled clients in a luxury medical spa where they will be able to practice the treatments they learned about through expert lectures, giving them the confidence to perform treatments on their own clients!
National Laser Institute
We are the leader in the medical aesthetic industry and one of the best laser schools in the nation. We have earned many outstanding reviews and are recognized as the Harvard of laser schools across America. To learn more about laser training or National Laser Institute, please call 800.982.6817.