Better Oversight for Laser Training in States Creates Better Laser Technicians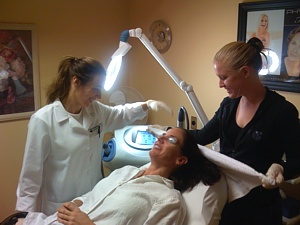 It used to be that cosmetic laser manufacturers didn't offer cosmetic laser training, so the market of cosmetic lasers used to carry on without any regulations, oversight, or guidelines. Because of this, clients experienced injury due to receiving treatments from inexperienced and untrained laser technicians. As the industry continued to boom, National Laser Institute realized there was a need for a cosmetic laser training education to teach individuals how to safely and effectively perform cosmetic laser treatments.
As years passed, more states became aware of this problem and created laws in order to protect customers. Arizona's regulations state individuals who want to perform cosmetic laser services most complete 40 hours of in-classroom training as well as 24 hours of laser hair reduction treatments and 24 hours of other laser and light based treatments. Texas also has similar regulations in order to protect clients, and soon after many other states followed in their footsteps.
The medical esthetic market is a BILLION dollar industry, and sadly not all states follow stricter training guidelines when it comes to training individuals who want to perform these types of treatments. However, National Laser Institute is a laser school dedicated to providing the highest quality cosmetic laser training education to those who want to learn. Students come from all across the globe to attend a two-week certification program that readies them to safely treat clients with revolutionary cosmetic laser treatments.
Laser Training Hands-On Course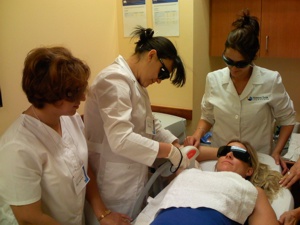 Most students enroll in the comprehensive laser course, which provides both the classroom and hands-on laser training students need to succeed within the industry. Courses are taught by expert laser professionals as well as medical professionals who have been in this industry for a decade. Students also learn from clinical training within our luxury medical spa setting, practicing laser techniques on scheduled clients in order to get a real world experience of performing laser treatments on different kinds of clients.
Laser Technician Training with Leading Laser School, National Laser Institute
There is no better place to earn your laser technician training than National Laser Institute. We're recognized as gold standard education and have received numerous outstanding reviews. To learn more about National Laser Institute or laser technician training, please call 480-290-7399.