Medical Aesthetic School Benefits Those in the Skin Care Industry
The skin care industry has come a long way within the last decade, and there have been more and more skin care experts that have evolved under different titles: cosmetologists, estheticians, dermatologists, etc. But thanks to recent technological advancements when it comes to treating skin concerns, the title medical esthetician has evolved.
Medical estheticians are trained to treat different skin concerns using either cosmetic lasers or cosmetic injectables, which can range from laser hair reduction to Botox to laser wrinkle reduction or even laser acne reduction. They treat the skin on the dermal and epidermal layer for a deeper rejuvenation and revolutionary results.
If you're already in the skin care industry, then you should probably know that medical esthetic school has ways of benefiting your career. For starters, you're adding a variety of different revolutionary skin care treatments to your area of expertise, which means more clients and more money in the long run. Second, you're keeping up within your market since many people have been turning to lasers to address their skin problems.
The idea of going back to school can seem daunting, but medical esthetic school only takes between 1 – 2 weeks to earn certification. National Laser Institute has trained hundreds of estheticians, cosmetologists, medical professionals, and those who are seeking out a new career within the medical esthetic industry.
But before you dive into school, you probably want to know what your career options are. As a medical esthetician, you're capable of adding cosmetic laser treatments (laser hair reduction, laser tattoo removal, laser wrinkle reduction, IPL photofacial skin rejuvenation, + more) as well as cosmetic injectables if you are a medical professional (Botox, Juvederm, Restylane, etc.). This allows you to work in doctor's offices, dermatology clinics, medical spas, health and fitness centers, hotels and resorts, and other places that are seeking someone who has medical esthetic certification.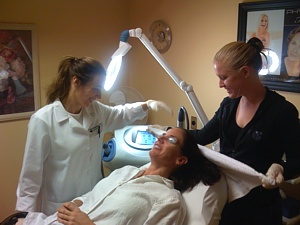 National Laser Institute offers a two week comprehensive laser training course that teaches students all about laser safety, tissue interactions with lasers, laser techniques, equipment information, client selection, pre and post treatment care, and much more. Students will learn in both a classroom environment as well as a hands-on training setting where they will practice on scheduled clients within an actual medical spa. This comprehensive medical esthetic course is taught by experts who've been in this industry for over a decade.
As a medical esthetic school, National Laser Institute has been around since 2002 and has trained over thousands of students since then. We were the first medical esthetician school to pioneer a laser training program that other laser schools across the nation have come to adopt. Most importantly, we believe in giving our students quality training in order to provide safe and highly qualified medical estheticians into the market.
To learn more about medical esthetician school or our courses, simply fill out our form to the right or call 480-290-7399.
Learn more: