Medical Esthetician Schools Take Skin Care Careers to a Whole New Level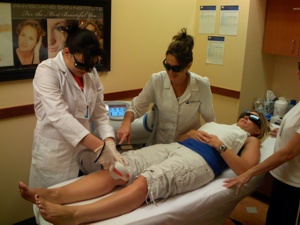 If you want to get your legs waxed, you most likely go to your favorite salon or spa. But what if your favorite spot began offering services where you could permanently remove that unwanted hair you were previously waxing for good? Sounds like a better deal, doesn't it?
Medical esthetician schools have taken skin care careers to a whole new level for the last decade. Within a two week laser training course, skin care specialists, cosmetologists, medical professionals, and even those seeking a career change can attend a medical esthetician school to earn certification to perform services like laser hair reduction, IPL (intense pulse light) photofacial skin rejuvenation, laser tattoo removal, radiofrequency skin tightening, laser acne reduction, and much more.
The Advantage of Adding Lasers
Those who already work in the anti-aging and skin care industry can highly benefit from medical esthetician school. For one, these cosmetic laser treatments have a higher market value. So if you're charging a client $15 for an eyebrow wax, you can majorly increase your profits by offering laser hair reduction that has an average market value of $100 or more per treatment.
But are clients paying for it? Absolutely. As a permanent form of hair reduction, it's almost an "investment" to the client if they never have to shave or wax again. Plus, you're able to offer them other cosmetic laser treatments to keep them coming back for more–laser skin resurfacing, cellulite reduction, laser stretch mark reduction, photofacials for sun damage, acne, discoloration, and so much more.
Making a Career Change
If you haven't previously worked in the skin care or anti-aging industry, you don't have to worry. Most states require only a high school diploma or GED to enroll in a medical esthetician school, and after two weeks of training, you can be on your way to a new career!
If this market has been booming for over a decade, you're probably wondering if the market is saturated. Currently, more than 2,100 medical spas are operating in the U.S. alone. And with your medical aesthetician training, you're not limited to working in a medical spa. Many graduates have gone on to work for dermatology clinics, doctor's offices, health clinics, salons, or open their own cosmetic laser facility!
Training with National Laser Institute
National Laser Institute wants to help you take your career to a whole new level. Our medical esthetician school has been recognized as gold standard education. We offer hands-on cosmetic laser training with our two-week comprehensive laser training course. This course is taught by leading experts in the medical esthetic field and covers everything you need to know about safety, treating different clients, industry regulations, different types of cosmetic lasers, and much more.
If you'd like to learn more about medical esthetician schools or National Laser Institute, fill out the form on your right or call 800-982-6817.