Skin Care Specialists Rank in the Top 30 Fastest-Growing Careers in the U.S.!
According to the Bureau of Labor Statistics, skin care specialists, including cosmetic laser technicians, rank within the top 30 fastest growing careers throughout the nation. Skin care specialists are predicted to be one of the most in-demand jobs throughout the year 2018 with the expansive market outlook and ever-improving technology backing this particular industry.
The medical esthetic industry is a BILLION dollar industry as it stands now. In 2016, the market is projected to increase to a THREE BILLION dollar industry. That being said, this type of career isn't slowing down. With the demand for treatments and updated, revolutionary technology used to treat skin and its imperfections.
If you're interested in entering the world of skin care, consider a career as a cosmetic laser technician. Laser technicians get to use the most advanced technology when treating client's skin care concerns and perform some of the most in-demand treatments–like laser hair reduction and laser facial resurfacing. The best part? Laser training takes just two weeks!
Cosmetic Laser Training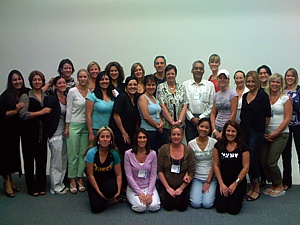 At National Laser Institute, we offer a comprehensive laser training course for those interested in performing cosmetic laser treatments. This course is broken down into two parts. The first part is your classroom training where you will learn from expert instructors within a small class setting. The second part of training is hands-on clinicals where you'll get to perform a wide variety of cosmetic laser treatments on scheduled clients within a luxury medical spa to become comfortable and confident with laser technology.
In this laser training course, we cover the following topics:
Laser safety
Tissue and skin interaction
Laser equipment functions
Multiple laser treatments (laser hair reduction, laser stretch mark removal, cellulite reduction, laser facial resurfacing, laser wrinkle reduction, + much more)
Pre and post care
Client selection
Hands-on training
+ More!
Laser School with National Laser Institute
National Laser Institute is the leading laser school in the nation and is recognized as gold standard education. They have received many outstanding reviews and were the first laser school in the nation to pioneer the laser training curriculum. To learn more about laser training or National Laser Institute, please call 800.982.6817.