Starting Fresh with Laser Tattoo Removal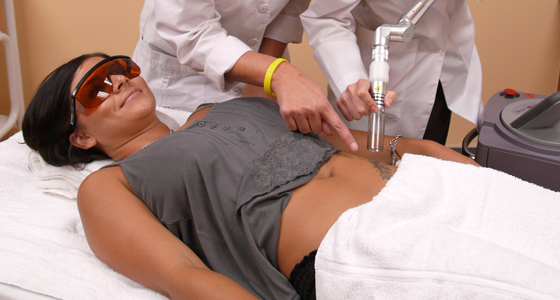 When most people start fresh in the new year, they'll usually go for a new hair cut or a makeover. But there's another treatment that offers people a fresh start: laser tattoo removal.
The Huffington Post states there has been an increasing trend in tattoo regret. People may want to remove old tattoos for a variety of reasons. It could be work related, or perhaps wanting to remove a permanent memento of an ex-lover. There are those who want to remove a tattoo that was a result of reckless decision making. Many people even remove tattoos in order to create a blank slate for a new one.
The American Society of Dermatologic Surgery reported a 52% growth in tattoo removal compared to the year prior. This increasing demand for tattoo removal may be a result from advancements in laser tattoo technology. Laser tattoo removal treatments use Q-switched laser technology to remove tattoos. These can include the Q-switched Ruby, the Q-switched Alexandrite, and the Q-switched Nd: YAG. Each of these are designed to treat different tattoo types, like color. Typically, one laser tattoo removal treatment can be complete in under 10 minutes.
Laser tattoo removal treatments are performed at NLI Med Spa, one of the leading medical spas in the country. Leading laser experts treat each client within our luxury medical spa environment using advanced laser tattoo removal technology.
Those who want to receive laser tattoo removal should receive treatment from a cosmetic laser technician. Laser technicians are trained to perform safe and effective laser tattoo removal services. Because it takes more than one treatment to remove a tattoo (between 8 – 12, depending on the age of the tattoo) laser technicians can reap the monetary benefits. If one client needs 12 treatments and you're charging $100 per session, you've made $1,200. Since it takes a short amount of time to perform laser tattoo removal, laser technicians are capable of seeing dozens of clients in one day.
Many people are surprised to learn that you can become a laser technician in two weeks or less. National Laser Institute, the leading cosmetic laser school in the nation, offers a two week comprehensive laser training course. This includes hands-on training with laser tattoo removal among many other laser services. This thorough laser training course includes laser safety training, understanding the Fitzpatrick scale, learning different types of laser equipment, and much more.
Learn more about laser tattoo removal treatments or laser tattoo removal training with National Laser Institute. For more information, simply fill out our form on your right or call 480-290-7399.