Student Spotlight: Andrea Can't Touch Laser Until She Gets Aesthetic Laser Training at National Laser Institute!
Skin is the largest organ and the most visible aspect of the body.  Problematic skin conditions can have a profound effect on self-confidence. Do you want a career that allows you to use cosmetic laser technology to help people look beautiful? If your answer is yes, then you should consider aesthetic laser training to become a cosmetic laser technician!
Andrea Zillmer is a recent graduate from the Core Laser Training program at National Laser Institute.  She works for Anton Salon and Spa in Pewaukee, Wisconsin. At Anton's Salon & Med Spa, they believe that people who care for their customers are their most valuable assets. Their team of medical professionals is recognized for their advanced technical skills and commitment to quality services.
The mission statement of Anton Salon and Spa is to ensure that their methods and training programs exceed industry standards, and they are constantly evolving to meet the needs of their clients and to provide the safest, most effective treatment at the best possible value.  
It's no wonder Andrea traveled all the way to Chicago to receive her aesthetic laser training at National Laser Institute.  Andrea's boss will not let any of the staff touch a laser unless they have received their aesthetic laser training through the National Laser Institute.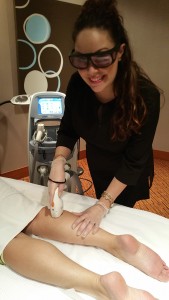 Andrea's experience this past week has been phenomenal.   Here's what she had to say about her aesthetic laser training. "Lots of hands on time. Teachers that I feel I'm friends with now. They are a wealth of knowledge.  I just can't wait to get back to work tomorrow and put everything I've learned to use."
National Laser Institute is the inaugural cosmetic laser school in the United States offering the Gold Standard in aesthetic laser training. Our Core Laser Training Course is comprised of hands-on instruction with treatments such as laser hair removal, tattoo removal, laser acne reduction, IPL photofacial treatments, wrinkle reduction, radiofrequency skin tightening, cellulite reduction, and laser stretch mark removal.  
The opportunities for advancement are limitless. You'll learn from industry leaders who have a zest for life and a firm belief that work is meant to be enjoyed. Our laser techs and medical professionals are instructors who are at the top in their field with years of experience.  Our didactic curriculum details concepts such as laser safety, skin and tissue interactions, and the Fitzpatrick scale.
Once you receive your aesthetic laser training, as a cosmetic laser technician, you will receive your fulfillment in helping people look and feel beautiful again.  Let us show you how you can begin your new career as a laser technician like Andrea Zillmer by receiving your aesthetic laser training at the National Laser Institute.
Simply fill out the form on the right or call 800-982-6817 for your complimentary consultation with a course counselor.