Tattoo Removal Training: Advancements in Tattoo Removal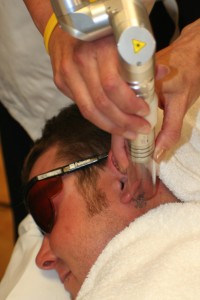 Laser tattoo removal treatments are both the best and safest way to remove unwanted tattoos, says a study by Harvard University and published in the Journal of the American Academy of Dermatology. Ablative fractional resurfacing treatments were able to drastically rid or remove unwanted tattoos without an allergic reaction from sensitive skin. Laser tattoo removal treatment may give some clients irritation or an allergic reaction if they have sensitive skin, but it is as effective as ablative skin resurfacing.
Laser tattoo removal uses a laser to cosmetically break up the tattoo's pigment within the skin. This highly concentrated energy works hard to fractionalize the tattoo and flush it out through the body's lymphatic system. After a series of treatments, clients will begin to see their tattoo fade and disappear from their skin.
Harvard put the seal of approval on the Sciton® Fractionated Erbium laser, deeming it "safe and effective for the removal of allergic tattoos" after its study. Because of its quick and beneficial results, the cosmetic laser industry has seen an increase in those who want to receive both laser tattoo removal and tattoo removal training.
The cosmetic laser industry has continually been increasing throughout the last few years. Even in our economy's tough economic hardships, we've seen a steady rise in the amount of cosmetic laser and injectable procedures being performed by professionals. In fact, according to the American Society for Aesthetic Plastic Surgery (ASAPS), both non-surgical and surgical cosmetic treatments performed in 2011 totaled 13.8 million, a 5% increase from 2010.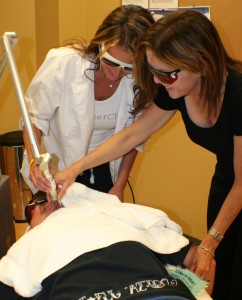 We offer the most advanced tattoo removal training courses for those wanting to learn and train on state-of-the-art equipment while practicing newfound skills on scheduled clients. National Laser Institute is the leader in the medical aesthetics industry and has earned a number of starred reviews from its graduates. Because we offer a small classroom setting, students get a chance to practice and get a better grasp on learning.
There isn't a better time than the present to add tattoo removal training to your expertise, especially with such growth in the industry. Feel free to browse our reviews, courses, and information tabs to gain a little more insight about our school.
To learn more about tattoo removal training or National Laser Institute, you can speak to an admission's advisor by calling 800.982.6817.