Tattoo Removal Training in Dallas: Everything You Need to Know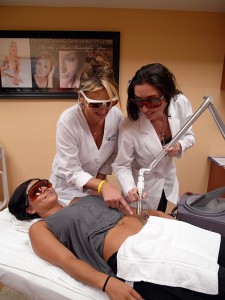 Laser tattoo removal is quickly becoming one of the fastest growing laser treatments. In fact, laser tattoo removal experience a 32% growth increase just last year. Because technology is advancing and improving, many people have been seeking out laser tattoo removal versus waiting for those creams and gels to work. This is because laser tattoo removal uses a different method to remove tattoos, and people are loving the results.
Because there is a huge client demand, many people have been seeking out tattoo removal training in Dallas. Dallas is one place you can become a laser technician specializing in tattoo removal treatments without having prior background as a medical professional. However, there are many state regulations and prerequisites for those who are interested tattoo removal training in Dallas, as discussed further below.
State Regulations and Prerequisites
Dallas has many state regulations for those interested in tattoo removal training for the protection and overall safety of the client. You must have completed your high school education with certified diploma or GED. You must also be trained with a laser safety course within your laser tattoo removal course. Finally, Dallas requires a set number of hours where clients must be in a training environment practicing within the classroom and also hands-on techniques on scheduled clients.
Tattoo Removal Training Course in Dallas
National Laser Institute meets Dallas' requirements and regulations, offering estheticians, career changers, medical professionals, etc. tattoo removal training at their Dallas campus. You will experience hands-on training with clients within a luxury medical spa setting and use the most advanced Q-switched laser (laser tattoo removal technology) within your training experience. You'll also experience classes taught by expert medical aestheticians and tattoo removal experts who can answer any and all questions you may have.
Tattoo Removal Training Objections
In this tattoo removal training course, students will learn:
Tissue interaction with lasers
Laser selection for tattoo and skin types
Wavelengths of laser treatments
Pre and post care treatments
Contraindications
Treatment plans
Hands-on training with clients
And much more
National Laser Institute
National Laser Institute is a medical esthetics training school that has been around for years, recognized as gold standard education. We were the first laser school to pioneer the laser training curriculum that laser schools across the nation currently use. We have received a number of starred reviews as well as an A+ rating from the BBB. To learn more about tattoo removal training in Dallas or National Laser Institute's courses, please call 800.982.6817.