What Is The Difference Between Professional and Home IPL?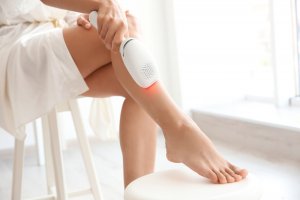 When it comes to the various methods of hair removal, it's tempting to opt for home treatments that cost less and promise silky-smooth and hair-free skin.
However, are home treatments the right choice for laser hair removal?
Home Devices vs. Professional Laser Treatments
Here are a few reasons why you should ditch your home device and opt for a cosmetic laser tech who has attended a medical aesthetics training course:
| | | |
| --- | --- | --- |
| | HOME TREATMENTS | PROFESSIONAL TREATMENTS |
| Laser Technology | The laser technology used for treatments aren't safe for at-home use, especially by those who haven't attended medical aesthetics training. Any at-home device claiming to do the same thing won't have the same strength or laser technology as the laser treatments performed in medical spas. Most home devices use IPL technology because it's safer to use and relatively cheaper. | Professional laser treatments have a higher energy output, meaning the treatments are stronger and produce better results. |
| Pre-treatment | It's up to you to be fully educated about each machine you consider. Understand pre- and post-treatment do's and don'ts. Check your medical history against the warnings and contradictions. | Your cosmetic laser technician will consult with you before your treatment to check your suitability, set expectations for the treatment and guide you through the process. Because your practitioner attended esthetics training, they will have a thorough understanding of each treatment they perform. |
| Skin Tones | Most DIY machines are unsuitable for darker skin tones. | During your consultation, your laser tech will suggest treatment options for your skin type and tone. Generally, darker skin tones can't use IPL, but they are suitable for cosmetic laser treatments. |
| Ease of Treatments | Some areas of the body are hard to reach, and it can get uncomfortable trying to get good coverage. Your laser treatment may take time for large areas. | A cosmetic laser tech makes sure all areas are covered. The powerful machine covers your skin quickly with a larger flash window and fast flash repetition. |
| Safety | Home devices use simplified technology that makes it harder for you to damage your skin. Skin tone sensors and skin contact systems are used to protect your skin and eyes. | A medical spa will adhere to all training and safety requirements and company best practices. Your cosmetic laser tech manages any hazards and risks during treatment and advises on any side effects. |
Cosmetic Laser Training at National Laser Institute
If you are looking for a new career, consider laser training at National Laser Institute! We offer medical aesthetics training that can be completed in just two weeks.
Our Comprehensive Laser Course is the most sought after as it provides didactic education and clinical hands-on training for the ultimate learning experience.
Half of the course is spent in didactic education where you will learn things like patient selection, laser physics, pre- and post-treatment care, and more. This will prepare you for your clinical hands-on training.
The rest of the course is spent doing clinical hands-on training in a medical spa environment. You will watch comprehensive laser demonstrations from their instructors and perform a variety of laser treatments on clients we schedule for you!
We are the only esthetics school that spends millions of dollars each year to schedule real clients for you to work on during clinicals. It's just one of the things that set us apart from other schools.
And once you complete one of our cosmetic laser courses, you will have access to our Graduate Services Department, which sends out over 500 job leads a month to our alumni!
Prior attendees have found jobs at laser & niche clinics, medical spas, physician's offices, salons, fitness centers and more!
If you would like to learn more about cosmetic laser training courses at National Laser Institute, fill out the form on your right or give us a call at 1-800-982-6817.