Cosmetic Laser Training Schools
It's easy to understand why cosmetic laser training schools are becoming increasingly popular: the cosmetic laser industry is growing by leaps and bounds, and lots of folks want to get in on this exciting phenomenon. But it's a little more difficult to understand the difference between cosmetic laser training schools, other laser training schools and medical aesthetics training schools, so let's take a closer look.
Cosmetic Laser Training Schools
These are also known as cosmetic laser technician schools. Students learn how to perform laser hair removal, laser skin rejuvenation, laser tattoo removal and more. Laser technicians evaluate client's skin, assign treatment plans based on individual needs, and understand/implement laser safety standards. The cosmetic laser technician typically works under the supervision of a medical director, though requirements vary by state.
Other Laser Training Schools
These typically encompass all non-cosmetic laser training, including lasers used for medical purposes, surgical procedures, physical rehabilitation and pain management.
Medical Aesthetics Training Schools
Though many medical aesthetics training schools also train in the use of cosmetic lasers, a medical aesthetician is a medical professional such as a physician, nurses, or physicians assistant. Because of medical professional status and license, they are able to receive training with cosmetic injectables, such as Botox and dermal fillers, sclerotherapy, as well as cosmetic laser treatments. Medical professionals can attend medical aesthetician school in order to receive cosmetic injectable training as well as cosmetic laser training.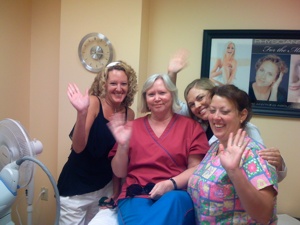 National Laser Institute is one of the best cosmetic laser training schools as well as a medical aesthetics training school. Our attendees come from all walks of life: from stay-at-home moms to experienced aestheticians to plastic surgeons. We offer hands-on cosmetic laser training and cosmetic injectable courses for those looking to become certified to perform cosmetic laser or injectable services.
Call us today at 1-800-982-6817 to learn more about us. We're happy to answer all of your questions regarding cosmetic laser training schools and more.
Read more information on:
Laser Hair Removal Certification