Olympic Athletes Turn to Laser Hair Reduction Treatments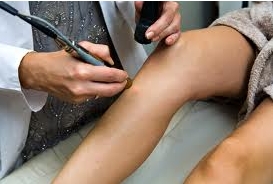 With the Olympics happening this year, you can't help but be curious: Do Olympic athletes use laser hair reduction treatments?
Sports like swimming, gymnastics, volleyball, tennis, track, and other skin-bearing competitions tend to have strict requirements when it comes to being hair-less.
Assuming shaving is time-consuming and leaves razor burn while waxing tends to be painful and not permanent, we can't help but wonder if Olympians have ever tried laser hair reduction before.
Athletes Opt For Laser Hair Reduction
Kerri Walsh Jennings and Misty May-Treanor were two Olympic champions in the 2012 Olympics this year. Their sport of choice? Volleyball. With such tiny uniforms and so much skin, Kerri told Allure magazine that she dislikes waxing.
Her ideal hair removal treatment would be lasers–specifically around her bikini line. We don't blame her. Who wants to be self-cautious down there when you're on national television?
"It was a glorious day when I discovered lasers," Kerri told Allure.
Laser hair reduction treatments have become more common as of recently. In fact, over 1 million laser hair reduction treatments were performed last year, increasing a whopping 15%. Not everyone has to be a Hollywood celebrity of an Olympic champion to receive laser hair reduction, though.
We're one of the luxury medical spas committed to providing these treatments at a fraction of the retail cost–giving you the results you desire without breaking your budget.
Laser Training at National Laser Institute
On top of offering laser treatments, we also provide the most comprehensive cosmetic laser treatment courses out there. As you can see, the world of cosmetic lasers has becoming more popular than ever. That means more people want to become trained to take this skill set back to their own clinic or business.
Our comprehensive laser course will not only give you hands-on training with laser hair reduction treatments, but will also train you on some of the most popular laser treatments out there, including laser wrinkle reduction, laser acne reduction, laser tattoo removal, and more!
To learn more about laser hair reduction treatments, laser training, or National Laser Institute, please call 480-290-7399.
Read more information on: