Medical Aesthetics Procedures Tops $16 Billion in 2016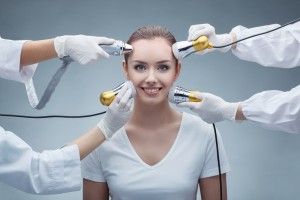 The medical aesthetics industry is on fire with no signs of slowing down anytime soon.
A new report by the American Society of Plastic Surgeons (ASPS) reveals Americans spent more than $16 billion on cosmetic plastic surgery and minimally-invasive procedures in 2016.
Popular Medical Aesthetics Procedures
Can you guess which cosmetic treatments made the top of the list? If Botox or laser hair removal came to mind, you are on the right track! The top five treatments are:
Botox (7 million procedures)
Soft tissue fillers (2.6 million procedures)
Chemical peel (1.3 million procedures)
Laser hair removal (1.1 million procedures)
Microdermabrasion (775,014 procedures)
From 2000 to 2016, the number of non-surgical treatments increased by 180 percent! Botulinum Toxin Type A (Botox, Dysport and Xeomin), the No. 1 treatment, increased by 4 percent the past year and a whopping 797 percent since 2000. A type of neurotoxin, Botox addresses fine lines and wrinkles that appear between the eyebrows, on the forehead and around the eyes.
Jumpstart Your Career with National Laser Institute
If you have a passion for helping others look and feel their best, a career as a cosmetic laser tech may be a perfect fit!
At National Laser Institute, we offer several medical aesthetics courses designed to prepare you for a career in the medical aesthetics industry. In two weeks or less, you can begin working as a cosmetic laser tech.
Each course combines didactic education and clinical hands-on training for the ultimate learning experience. You will learn aesthetic treatments like laser hair removal, laser tattoo removal, radiofrequency skin tightening, body contouring and more.
For the physicians, nurses and medical professionals, we offer CE/CME continuing education courses for those interested in cosmetic injections such as Botox, facial fillers (Restylane, Restylane Lyft and Juvederm) and platelet-rich plasma (PRP).
With training from the National Laser Institute, students are prepared to work in any medical setting, including med spas, laser clinics, dermatologists' offices and physicians' offices.
If you would like to learn more about National Laser Institute's course options, call 1-800-982-6817 or fill out the form on the right of your screen!