National Laser Institute Reviews Make A+ Grade
Have you heard the latest news? The National Laser Institute reviews have been garnering A+ ratings from our students and graduates! These great National Laser Institute reviews are validated by the Better Business Bureau, which has awarded the National Laser Institute an A+ rating since April 16, 2010!  We strive to not only meet but exceed our student and graduate expectations as well as the BBB standards.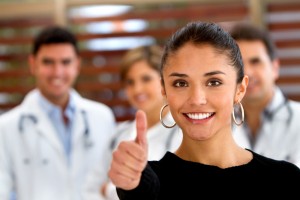 Our instructors teach physicians, nurses, and laser technicians from around the world the Gold Standard to perform the most advanced laser treatments and injection techniques.  You can trust the National Laser Institute for your medical aesthetics education because as a Better Business Bureau Business, we are always striving to stay in good standing with our current and prospective students and alumni.
The following National Laser Institute reviews from our successful graduates illustrate our commitment to the medical aesthetics community.
National Laser Institute Reviews by Graduates
"My experience at National Laser Institute blew my expectations out of the water! The staff is amazingly knowledgeable and truly encouraging. They sincerely want every student to succeed! Along with an amazing two weeks of class and hands on experiences, I made some of the best memories I will hold near to my heart forever. I am truly blessed to not only have attended National Laser Institute, but that my education at the facility helped me land a job with a dermatologist only three days after returning home! I will forever be grateful for the knowledge I gained from National Laser Institute, and the relationships I built while I was there." Sarah Hennerich
"I attended National Laser Institute's remote course in Boston, March 2015, and the experience was nothing less than fantastic! At the time I was a recent graduate from an Aesthetics program in NC and after many hours of research I decided on National Laser Institute because they are undoubtedly the leading educators in laser theory and training. Every single one of their instructors is extensively educated and experienced, professional, and FUN. I woke up every morning excited for another 9-hour day of learning because the information is fascinating and their teaching style is witty, energetic, comprehensive and thorough. After returning to NC and sending out dozens of resumes to local med spas, plastic surgery and dermatology offices, I was concerned that as an inexperienced, newly licensed aesthetician, I was setting my sights too high. I was ecstatic, to say the least, when two leading medical spas offered me jobs. Throughout the interview process it was noted that my resume stood out above the rest because of the fact that I had attended National Laser Institute. I am currently employed And credit National Laser Institute entirely for my success. The only problem now is that I miss all of the instructors and friends I made in Boston! Thank you to Louis Silberman and his talented team of educators for making my dreams possible! You are all amazing and I am forever grateful for my experience with you!" Jennifer Corson
"I'm not sure if you remember me or not, but your school changed my life in the summer of 2011. I was finishing esthetics school, making a life change. I then went to the National Laser Institute Dallas campus, I believe I was in the 2nd class there. Once I completed my training, I was hired to run the Laser and Aesthetic Center for a dermatology practice immediately after. Recently, I was recruited to be the director of the Laser Center and MEDspa. I just wanted to thank you again, from the bottom of my heart. You truly did change my life. I continue to send students to National Laser Institute, and now more than ever. Hope this finds you well and smiling." Paul Kraft
"When choosing an institution to learn laser aesthetics, there were few truly accredited institutions available. After a lot of research, I chose to travel from Ontario, Canada to Scottsdale, Arizona to attend National Laser Institute. My training at National Laser Institute has empowered me to start my own successful business in cosmetic laser therapy, Leah's Laser Aesthetics and Spa. I now have confidence in my skills and have developed a reputation in my community as being knowledgeable and honest about treatments options for a variety of skin conditions. While I offer the latest in laser technology to remove hair, treat pigmented lesions, tattoos, and scars, my training at the National Laser Institute has enhanced my ability to educate patients on their lifestyle choices and the best treatment modality for their given condition. I also know when to treat and when to advise patients they are not candidates for a given therapy. The education I received at the National Laser Institute helped to make me a local opinion leader on appropriate cosmetic laser treatments, and I have to credit the comprehensive education I received at National Laser Institute for this recognition." Leah Butler
"I'm a licensed Nurse Practitioner in CA, specializing in OB/Gyn for 22 yrs. Last year (2014), I felt that I was ready for a career move so I checked out training classes in Aesthetic Medicine. National Laser Institute stood out as the most reputable & offered the most comprehensive training. So I took the full 2 weeks of training in Scottsdale, AZ. My Instructors & teachers were great. They were very knowledgeable & experienced. After my training, I felt that I was fully prepared & skilled to take on my new role as an Aesthetic NP. Upon returning to CA, I had a job interview lined up the next day, & lo & behold…. I was hired on the spot! Wow, I can't believe it! I got a job the next day after my training! God is good! It's been over a year since, & I'm now the Lead Injection Specialist in my job. I'm enjoying my new specialty & it was the best career move I've made! Thanks to Louis Silberman, National Laser Institute CEO (who took the time to share with me some marketing tips), & to all the National Laser Institute teachers/instructors/staff. They've all been great! They also take good care of their Alumni, sending out employment leads exclusive to their graduates. I definitely recommend National Laser Institute to be the school of choice in the field. They're the BEST!" Veronica, NP
"My experience at the National Laser Institute was both a positive and memorable one. The program was exceptional, cutting edge, and exciting. Our class had knowledgeable and upbeat instructors who were current experts in their given fields. The students in my class came from far and wide, from across the country and all over the world. There are colleagues I met at National Laser Institute who I will definitely keep in touch with long term. While still in training, I began an intensive job search for an R.N. position in laser and injectables. Louis Silberman, the president and CEO of National Laser Institute was supportive and helpful in speaking with potential employers inquiring about me. Even before the end of the training, I had landed my dream job thanks to the excellent learning opportunities from the reputable and elite institution, National Laser Institute. Thank you National Laser Institute for your encouragement, inspiration, opportunity, quality education, and personal touch. I am grateful to you for providing me with the tools needed to create a bright and exciting future for myself in the medical aesthetics industry!" Christina "Krysia" Fenzl, BS, RN, RYT
The National Laser Institute has been in business for 12 years.  We take pride and care in our  up-front and honest business practices. Our students and graduates are confident our licensing and advertising practices are in compliance with the Better Business Bureau's standards because of their experience at the National Laser Institute.
If you would like to learn more about the National Laser Institute and our courses for medical professionals and our comprehensive laser training program, please call 800-982-6817 or fill out our form on the right.