Laser Certification
Laser Certification and Training
Although there are at home DIY laser products that promise hair removal, practicing on advanced laser technology without laser certification is dangerous. You are at risk of burning, injuring or harming your client that can lead to lawsuits and thousands of dollars in losses.
Gaining your laser certification is an important step in moving forward within this industry. Many hiring managers look for laser technicians who have trained in a reputable school. This is because they know laser techs have most likely learned the importance of safety, equipment settings, skin and tissue interaction, as well as hands-on training.
Training for Laser Technicians
Those who have gone through a hands-on laser training course may have higher chances of being considered for a cosmetic laser career. National Laser Institute is dedicated to providing educational quality for our students. In fact, many of our students have been hired or gained interviews even before graduating from their laser certification course. This is because National Laser Institute is known as the leading cosmetic laser training school.
Our two-week comprehensive laser training course prepares laser technicians with invaluable information that they need to safely and effectively treat clients. Students earn laser certification after they complete both the classroom and hands-on portion of this course. The didactic portion is led by leading medical aesthetic professionals with years of experience. In this portion, you will learn the following:
• Laser safety training
• The Fitzpatrick scale
• Skin and tissue interaction
• Wavelengths and laser selection
• Equipment settings and safety
• Client selection
• Risks and benefits
• More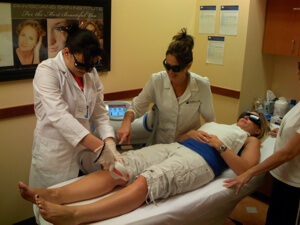 The second part of this laser certification course is our hands-on training. Students will gain real life experience within our luxury medical spa where they will treat real clients. This includes consultation, understanding proper equipment functions for different skin and treatment types, safety, and practicing advanced laser techniques.
This course includes training with laser hair removal, IPL photofacial skin rejuvenation, radiofrequency skin tightening, laser stretch mark reduction, cellulite reduction, and much more.
In many states, regulations say that those who have earned a high school diploma, GED, or higher can perform cosmetic laser treatments. There are some states that only allow medical professionals to use cosmetic lasers.
Our Laser Certification Course Options
• Laser & Intense Pulse Light Classroom/Didactic
We also offer night classes!
Laser Training for Medical Professionals
We have specific courses designed especially for medical professionals. Our 5-day laser training course covers much of the above, including hands-on training, but many medical professionals want to take advantage of performing Botox and dermal filler treatments. For this reason, we offer a comprehensive medial professional course.
This course is aimed at giving in-depth knowledge of Botox, dermal fillers, sclerotherapy, cutting-edge cosmetic laser treatments, and more. Upon course completion, we provide CME and CE credits.
Why Choose National Laser Institute?
Classes led by Dermatologists, Cosmetic Surgeons and leading industry Physicians
Train on the most advanced, state-of-the-art technology
Hands-on training in our luxury, retail medical spa
Graduate Services department that provides 200-500 job leads each month

Medical advisory board with over 100 years of combined experience.
Business development/marketing seminars
Featured in the top nation health and beauty publications
Online medical aesthetics library with thousands of pages of resources
What Our Attendees Are Saying
Want to learn more about National Laser Institute? See what our laser tech and medical professional graduate are saying by watching our video testimonials below!
Laser Training Testimonials